Car Accidents
Respected Personal Injury Attorneys Serving Accident Victims in Miami, Fort Lauderdale, Orlando, and Throughout South Florida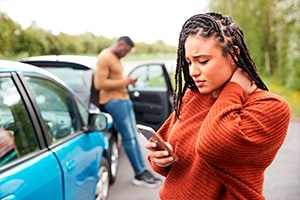 In a split second, a car accident can change the course of your life and those of your loved ones. Whether it's medical expenses, missed work, or a lifetime of physical limitations and lingering pain, being involved in a car accident takes an immeasurable toll on your ability to live your life the way you had planned. At Friedman Rodman Frank & Estrada, P.A., we provide a strong voice to car accident victims throughout South Florida. If you have been injured by a negligent driver, we can help you recover maximum compensation for what you've been through.
For more than 100 combined years, our Miami personal injury lawyers have helped victims of car accidents and their families rebuild their lives. We are committed to helping our clients obtain justice by pursuing the financial compensation they need to start the process of moving on with their lives after an accident. Contact our law firm today to schedule a free consultation with a skilled Florida auto injury lawyer.
Why You Need a Dedicated Car Accident Attorney with Specific Experience Handling These Cases
Experience has shown us that, time and time again, many victims of car accidents try to handle personal injury claims without the help of an attorney. Unfortunately, insurance companies often do not take unrepresented parties seriously. They may convey low-ball settlement offers in hopes of a quick (and inexpensive) resolution or deny a claim in hopes of the victim not pursuing a lawsuit. Sadly, these tactics often work.
Other victims work with law firms that only dabble in personal injury. Unfortunately, inexperienced personal injury lawyers often seek the quick settlement offers that insurance companies are more than happy to provide. However, these too often fail to consider the full extent of the damages their clients have endured.
At Friedman Rodman Frank & Estrada, P.A., we are committed to helping you navigate through the legal system in pursuit of obtaining everything you need to make yourself as whole again as possible. We will only recommend a settlement that we feel is in your best interest. Our focus is to help you obtain a full financial recovery to include the economic damages you have endured, including compensation for your
Past and future medical expenses,
Lost wages,
Decrease in earning capacity, and
Property damage.
We also know the impact accidents can have on your overall wellbeing, and so we also aggressively pursue non-economic damages awards to compensate you accordingly. Non-economic damages may include compensation for your pain and suffering, loss of familial relationships, permanent disability or disfigurement, and the overall decrease in your quality of life.
We consult industry-leading experts, including economists, vocational experts and medical specialists, to understand the amount of compensation you will need today and in the future. We will pursue maximum compensation against all at-fault parties, including other drivers, companies that employ negligent drivers, government entities and vehicle manufacturers.
Even if you were hit by a motorist with little or no insurance, you may still be able to recover significant compensation for your injuries. We are available to help you file an underinsured/uninsured claim to help you obtain compensation up to the limits of your policy. We are also available to help you determine if your insurance policy includes Personal Injury Protection (PIP) benefits. This would allow you to recover additional compensation, regardless of fault. Our top priority is to help you get back on your feet by uncovering every opportunity possible to maximize your recovery options.
Types of Car Accident Cases We Handle
At Friedman Rodman Frank & Estrada, P.A. we handle all types of car accident lawsuits throughout South Florida, including:
Regardless of the type of accident you were involved in, we are immediately available to meet with you, discuss your options, and help you determine the best course of action to obtain the compensation you deserve.
Contact a Miami Car Accident Lawyer to Schedule a Free Consultation
If you were recently involved in a car accident, you may be wondering, "How can I afford the medical care I need after a car accident?" or "Who will cover my lost wages?" At Friedman Rodman Frank & Estrada, P.A., we often hear these questions from our clients. Our legal team has the answers and can prepare a compelling claim for compensation on your behalf. We have more than 100 years of combined experience handling all types of car accidents and know what it takes to get our clients the results they are looking for.
To discuss your options with an experienced Miami car accident lawyer, contact our law firm online or call (305) 448-8585 or toll free at (877) 448-8585. We are available 24 hours a day, seven days a week. All consultations are free and confidential, and we proudly serve clients throughout South Florida, including but not limited to Miami, Miami Beach, Naples, Homestead, Fort Lauderdale and Orlando.