Admiralty and Maritime Law
Skilled South Florida Personal Injury Lawyers Aggressively Representing Injured at Sea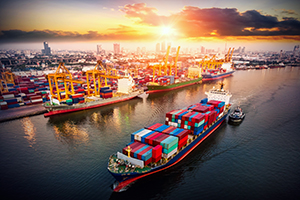 Admiralty and maritime law is a specialized practice area that governs lawsuits that arise on navigable waters. Normally, state courts have jurisdiction over accidents that occur within the state. However, if you've been injured in a cruise ship accident or while working at sea, you aren't technically located in a state. In these cases, your case will usually be handled by a federal court, although depending on the issues involved, it could be in state court. At the personal injury and workers' compensation law firm of Friedman Rodman Frank & Estrada, our team of admiralty and maritime lawyers have more than 200 years of combined experience handling these challenging and complex cases. We can advise you on your rights and help you pursue the compensation you are entitled to on account of your injuries.
What Type of Cases Involve Admiralty and Maritime Law?
Generally speaking, a case falls within admiralty jurisdiction if it arises from an accident on the navigable waters of the United States and involves some aspect of maritime commerce. Initially, admiralty jurisdiction only applied to commercial vessels; however, in 1982, the United States Supreme Court held that accidents involving private vessels also trigger admiralty jurisdiction.
If a case falls within admiralty jurisdiction, it must be resolved through federal maritime law if 1.) admiralty law is settled regarding the issue presented, and 2.) the application of contrary state law would disrupt the desired uniformity of federal maritime law. While the nuances of which law applies can be tricky, there are certain types of accidents that almost always fall within admiralty law, including:
Cruise Ship Passenger Injuries – Cruise ships may be a great way to spend time with family, but they also present serious risks for passengers. If a cruise line's negligence results in a passenger's injury, admiralty law will apply. This is often the case even if the injury occurred while boarding or disembarking the vessel or even on land.
Seaman Injuries – Those who work at sea face tremendous danger every time they head out onto the water. Unlike most other workers, a seaman cannot bring a workers' compensation claim after an on-the-job accident. However, under the Jones Act, they can pursue a negligence claim against their employer (or any other responsible party). From slip and falls to overboard accidents to collisions, any injury suffered by a seaman falls within admiralty jurisdiction.
Longshoreman Injuries – A longshoreman is a person who works in a harbor or on a dock. Often, longshoremen are responsible for loading cargo on and off a boat. If a longshoreman is injured on the job, admiralty law will apply.
Why Is Admiralty Law Important?
If you've been injured on a cruise ship or while working on a vessel, you may be wondering, "why does it matter if admiralty law applies to my case?" The answer is that admiralty law often differs from state law on certain important issues. Thus, if you've been injured while at sea or aboard a ship and believe that admiralty law may apply in your case, it is essential that you consult with an experienced admiralty and maritime law attorney for guidance.
Schedule a Free Consultation with a Maritime Lawyer at Friedman Rodman Frank & Estrada Today
If you suffered injuries while aboard a ship or in relation to a cruise, the dedicated injury lawyers at Friedman Rodman Frank & Estrada can help you understand your rights and pursue a claim against the responsible parties. For more than 45 years, we've provided comprehensive representation to accident victims in all types of cruise ship and boat accidents. Over this time, we've recovered millions of dollars on behalf of our clients, helping them overcome their injuries and get their lives back on track after a serious accident. To learn more, and to schedule a free consultation with one of our admiralty and maritime law attorneys, give us a call at 877-448-8585. We serve clients all over South Florida, including but not limited to Miami, Miami Beach, Naples, Homestead, Fort Lauderdale and Orlando.