Firm Overview
Knowledgeable and Respected Personal Injury Lawyers Serving Miami and All of South Florida Since 1976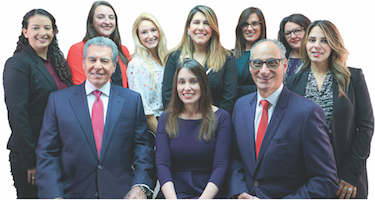 If you've been injured in an accident, you may not know where to turn for help. At Friedman Rodman Frank & Estrada, while we consider ourselves the best South Florida personal injury attorneys, we also think that our results speak for themselves. For more than 45 years, our injury lawyers have proudly stood at the side of accident victims across South Florida, helping them recover compensation for what they've unfortunately been through on account of their injuries.
Our Firm's History
Friedman Rodman Frank & Estrada traces its roots back to a small Miami Beach law firm founded by Harvey D. Friedman in 1976. Since then, Attorney Friedman has brought on several more offices with our main office being located at 3636 West Flagler Street, Miami, FL. We also have offices in the following cities:
Miami Beach: 605 Lincoln Rd, Suite 301, Miami Beach, FL 33139
Naples: 2590 Golden Gate Pkwy #112, Naples, FL 34105
Homestead: 30385 S Dixie Hwy, Homestead, FL 33033
From our four South Florida law offices, we represent clients throughout Florida including Miami, Miami Beach, Naples, Homestead, Fort Lauderdale and Orlando. While we've grown significantly over the past four decades, we continue to provide each of our clients with the individualized attention that they deserve.
Paying for Personal Injury Representation
As personal injury lawyers, one of the most common questions we receive is how much it costs to hire a South Florida personal injury lawyer. We understand the concern; you've been in a serious accident, which likely caused you to miss work, and are now facing medical bills that seem to increase by the day. Finding money to pay a lawyer after an accident can be tough.
At Friedman Rodman Frank & Estrada, we don't want financial concerns to come between our clients and the justice they deserve. That's why we handle all personal injury cases on a contingency basis, which means we won't get paid for the work we put into your case unless and until we can recover compensation on your behalf. And due to the fact that we're an established South Florida law firm, we also have the resources to advance the costs of litigation. This means that if you decide to bring a case with us, you won't pay anything up-front.
Client and Attorney Referrals
Over the past four decades, we've worked hard to create a reputation of excellence. Other personal injury and wrongful death lawyers have taken note of our efforts, and we frequently receive their referrals to handle large or complex cases, such as those involving:
Wrongful death,
Catastrophic injuries,
Multi-vehicle car and truck accidents,
Large-scale product liability claims,
Nursing home abuse and neglect cases involving multiple residents, and
Medical malpractice claims involving multiple patients.
We also regularly receive referrals from our past clients who trust us to handle their friends' and loved ones' cases.
Contact Friedman Rodman Frank & Estrada to Speak with a Miami Personal Injury Lawyer About Your Injuries
If you or a loved one recently suffered serious injuries at the hands of another person, business or government entity, reach out to Friedman Rodman Frank & Estrada to schedule a free consultation. Our respected personal injury lawyers are standing by, waiting to discuss your case with you and advise you of your options. From the moment you connect with one of our attorneys, you will realize what makes our firm different from the many other South Florida personal injury law firms. We provide each of our clients with the personalized attention, respect and compassion you'd expect from a small law firm, with the experience, resources, and tenacity of a much larger firm. To learn more about the cases we handle, and to schedule a free consultation, give us a call today at 877-448-8585. You can also connect with us through our online contact form.