Medical Malpractice
Skilled South Florida Personal Injury Lawyers Helping Patients Hold Negligent Medical Providers Accountable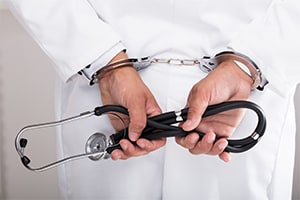 You trust that when you visit the doctor, your health is in good hands. However, what happens if a doctor makes a mistake and you leave in worse condition than when you arrived? While this may seem unthinkable, medical errors are incredibly common. According to some estimates, medical mistakes are the third leading cause of death in the United States. Doctors, nurses, surgeons, dentists, pharmacists and other healthcare providers owe a legal duty to their patients. When a provider's negligence results in a patient's new or worsening injury, the provider may be liable through a South Florida medical malpractice lawsuit. At Friedman Rodman Frank & Estrada, our medical malpractice lawyers have nearly a century of combined experience litigating these complex and high-stakes cases. We've helped countless clients obtain significant compensation for what they've been through.
What is Medical Malpractice?
Doctors and other healthcare professionals have a duty to every patient they treat. While the extent of a practitioner's duty depends on the specific situation, medical professionals must provide care that is at or above the generally accepted professional standard. For example, some of the most common instances of medical malpractice include the following:
Misdiagnoses and delayed diagnoses
Anesthesia errors
Pharmacy errors
Failure to order the appropriate testing
Misreading test or imaging results
At Friedman Rodman Frank & Estrada, our South Florida medical malpractice lawyers have successfully represented patients in a range of medical negligence cases and know what it takes to effectively bring and prevail on these complex claims.
Bringing a Medical Malpractice Lawsuit in Florida
Any personal injury case requires a keen sense of diligence and attention to detail; however, this is especially the case with medical malpractice claims. For example, Florida law requires all medical malpractice plaintiffs to conduct a "presuit investigation," which consists of submitting a "verified written medical expert opinion from a medical expert." The doctor providing the opinion must agree that there are reasonable grounds to support the plaintiff's claims against the defendant provider.
Once a patient completes the presuit investigation, the defense must then conduct its own investigation into the patient's allegations. The purpose of this requirement is to prevent the filing of claims that may not rise to the level of medical malpractice, as well as encourage defendants facing meritorious claims to consider settlement negotiations.
Damages in a South Florida Medical Malpractice Case
Receiving inadequate medical care can, and often does, result in severe and lifelong consequences. While there are many types of medical malpractice and every case is unique, patients who successfully pursue a claim against a healthcare provider can recover for their economic and non-economic damages, including:
Medical bills,
Future medical expenses,
Lost wages,
Decrease in earning capacity,
Pain and suffering,
Emotional distress,
Loss of quality of life, and
Disability or disfigurement.
The importance of thoroughly reviewing your medical records to identify the full extent of your potential damages cannot be overstated. You only get one opportunity to bring a medical malpractice lawsuit, so it is crucial to get it right the first time.
Contact a Respected Miami Medical Malpractice Lawyer at Friedman Rodman Frank & Estrada
If you or someone you love recently suffered new or worsening injuries due to the negligence of a healthcare provider, you may be entitled to significant damages. At Friedman Rodman Frank & Estrada, our dedicated team of South Florida medical malpractice attorneys has hands-on experience investigating, litigating and negotiating all types of medical negligence cases. We understand the difficulties you and your family are going through during this challenging time and will do everything to make the recovery process as straightforward and efficient as possible. To speak with an attorney about your situation today, give us a call to schedule a free case evaluation at 877-448-8585. We proudly represent clients throughout South Florida, including but not limited to Miami, Miami Beach, Naples, Homestead, Fort Lauderdale and Orlando.