Case Referrals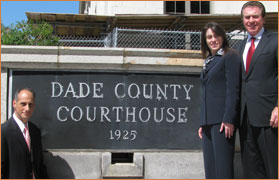 At Friedman Rodman Frank & Estrada, P.A., we are known for consistently obtaining compensation for our personal injury and wrongful death clients, both at trial and mediation. Our reputation has secured us frequent recommendations and case referrals, not only from our clients and the local judiciary, but also from attorneys at other law firms.
At Friedman Rodman Frank & Estrada, P.A., we are also known for being team players. Many attorneys, both local and in other jurisdictions, have turned to our Miami-based firm when seeking co-counsel on complex cases requiring a high degree of skill. In order to facilitate collaboration with firms who wish to collaborate with us, we have devised tailor-made fee schedules for referrals, joint venture and other types of arrangements that equitably apportion fees based on division of labor and risk exposure.
We have over 30 years experience in Miami-Dade personal injury lawyer co-counsel and referral cases. Some areas of practice we have collaborated with other attorneys and firms are:
truck accidents involving multiple vehicles
nursing home cases involving numerous residents
Friedman Rodman Frank & Estrada, P.A. is always pleased to speak with other attorneys about potential case referrals. We invite you to call us at 305-448-8585 or toll free at 877-448-8585 to discuss a prospective co-counsel arrangement.
U.S. District Court, Southern District of Florida
U.S. Court of Appeals, Fifth Circuit