Serious Injuries
Experienced Miami Personal Injury Lawyers Committed to Securing Maximum Compensation on Behalf of Seriously Injured Accident Victims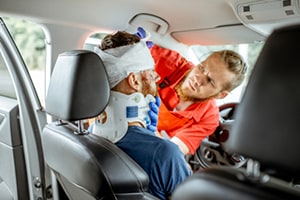 Loss of limb, head trauma, disfigurement, severe neck and back injuries and broken bones can be devastating and will drastically change your life and the lives of those close to you. When these traumatic events are caused by accidents at work or by someone else's negligence, you may be eligible to recover compensation through a personal injury claim.
Significant injuries can leave you feeling helpless and alone. But the truth of the matter is that you have rights. You have the law on your side. But you have to take the first step and contact legal representation. The Miami serious injury lawyers at Friedman Rodman Frank & Estrada understand all the intricacies of personal injury law. We're on your side, and we will listen to you and will do whatever it takes to ensure you obtain the justice you deserve. We understand the human side of the law. We know that major injuries are not only traumatic physically, but they are traumatic mentally as well. Serious injuries usually result in the loss of wages, medical expenses, physical rehabilitation, exorbitant expenses and major changes in lifestyle.
If you are seriously injured or harmed because of someone else's act or failure to act, personal injury law, also known as tort law, is designed to protect you. In a successful action, the person who suffers the losses is compensated by the one who caused the injury.
Types of Serious Workplace Injuries
Workplace injuries are all too common. In fact, according to the most recent data from the U.S. Bureau of Labor Statistics, there are approximately 540 work injuries per hour, or 12,900 work injuries every single day. While almost any job has the potential to cause serious injury, some jobs tend to have a higher injury risk factor, such as:
Health care and social assistance
Transportation and warehousing
Arts, entertainment and recreation
Agriculture, forestry, fishing and hunting
Manufacturing
Construction
When working in high-risk jobs, safety precautions must be strictly adhered to, and care must be taken when handling dangerous equipment. It is the responsibility of management to provide a safe working environment for all employees.
Serious injuries due to someone else's negligence don't always occur in the workplace. Businesses, public areas and private homes are also prone to accidents. However, it is up to the injured individual to hold the responsible parties financially liable for their culpable actions.
If you or anyone you know has been involved in a workplace accident and suffered a workplace injury, illness or disease, contact us for accurate and helpful claim assistance .
At Friedman Rodman Frank & Estrada, we are experienced in dealing with personal injury claims for people injured due to someone else's act or failure to act. We also handle all types of workers' compensation claims, including those incidents involving accidents unrelated to an employer's negligence.
Below, you will find information about the most common types of serious accidents we handle, along with details about how to begin your own personal injury lawsuit.
Have You Been Seriously Injured on the Job?
If you or a loved one has been harmed in an accident, reach out to the knowledgeable Miami personal injury and workers' compensation lawyers at Friedman Rodman Frank & Estrada. For more than four decades, we've helped clients who have suffered serious injuries recover the compensation they need to begin the process of moving on with their lives. We are available 24 hours a day, seven days a week and offer all prospective clients a free, confidential consultation. We have attorneys on our staff who also speak Spanish or Creole. Contact our experienced Miami personal injury attorneys toll-free at (877) 448-8585 to schedule a free consultation. You can also connect with us through our secure online contact form.