Catastrophic Injuries
Compassionate Personal Injury Lawyers Aggressively Pursue Compensation on Behalf of Seriously Injured Accident Victims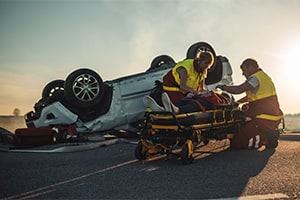 Any accident seriously disrupts your life. You may miss work or family vacations and may suffer lingering pain for months or years to come. However, some injuries are so severe that they have a profound effect on the rest of an accident victim's life. These catastrophic injuries often involve brain damage, paralysis, amputations, or other debilitating conditions. At the law firm of Friedman Rodman Frank & Estrada, our Miami personal injury lawyers represent individuals and families who have suffered the immense tragedy of a catastrophic injury. We have nearly 100 years of combined experience handling all types of Florida injury claims and have recovered many seven-figure damages awards on behalf of our clients.
What Is a Catastrophic Injury?
Catastrophic injuries are those that seriously impact an accident victim's ability to live their life the way they intended. These injuries affect not only accident victims but also their family members. An accident victim may develop the need for constant in-home care, requiring a family member to leave their career to become a caregiver. Children may grow up with a parent who is limited in their ability to do the normal, everyday things that parents commonly do, such as going to sports games, helping with homework, or providing general life guidance.
While there is no legal definition of what constitutes a catastrophic injury, the following injuries fall within the category:
Amputations
Paraplegia
Quadriplegia
Organ damage
Severe scarring or disfigurement
Severe burns
Some catastrophic injuries are immediately recognizable. However, that is not always the case. In the case of moderate to severe brain damage, an accident victim may show little to no signs of injury. However, as time passes, they may begin to experience memory loss, uncontrollable emotions, mood swings, and have a hard time focusing. Thus, it is important for anyone who was involved in a serious accident to immediately go see a doctor to evaluate the extent of their injuries.
Causes of Catastrophic Injuries
Any type of accident can result in a victim suffering a catastrophic injury. However, certain accidents are more likely to cause debilitating injuries, such as Florida car accidents, truck accidents, construction site and other workplace accidents, sports injuries, medical malpractice and fires.
Regardless of the nature of the accident resulting in your injuries, an experienced personal injury lawyer can advise you of your options and help you pursue a claim for compensation.
Damages in a Catastrophic Injury Case
The damages available through a personal injury lawsuit involving devastating injuries are often substantial. Generally, accident victims can recover for their economic and non-economic losses. Economic losses include the cost of all medical expenses related to the accident, as well as lost wages and any decrease in earning capacity due to your injuries. In catastrophic injury cases, economic damages are significant because victims require major medical procedures and may not be able to work for quite some time—if ever.
Non-economic damages provide compensation for the emotional and psychological effects an accident had on a victim's life. For example, non-economic damages include payment for any pain and suffering, disability, disfigurement, and loss of enjoyment of life. Again, due to the enormity of the impact catastrophic injuries have on victims' lives, non-economic damages awards are crucial to a full and fair recovery.
Contact a South Florida Catastrophic Injury Attorney Today
If you or someone you love recently suffered debilitating injuries due to another's negligence, reach out to the attorneys at Friedman Rodman Frank & Estrada to discuss your options. Since 1976, our lawyers have provided accident victims across Florida with compassionate representation that always puts their interests first. We recognize that this is a challenging time for you and your family and strive to make the recovery process as easy on you as possible while maintaining a focus on recovering fair compensation for your family. To learn more, and to schedule a free consultation with one of our catastrophic injury lawyers, call 877-448-8585 or 305-448-9818. You can also reach us through our online contact form. We represent clients throughout South Florida, including but not limited to Miami, Miami Beach, Naples, Homestead, Fort Lauderdale and Orlando.