Wrongful Death
Compassionate Personal Injury Attorneys Pursuing Fair Compensation on Behalf of Grieving Families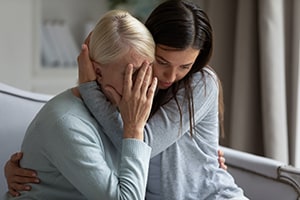 If you've lost a loved one unexpectedly, you may be facing significant financial hardships along with your emotional loss. If your loved one passed away due to the negligence or misconduct of someone else, you may be able to seek financial compensation to help you through this difficult time by means of a wrongful death claim/lawsuit. There is, however, a time limit for filing a wrongful death lawsuit in Florida, so it's important that you consult with the Miami wrongful death attorneys at Friedman Rodman Frank & Estrada as soon as possible.
What Is a Wrongful Death Lawsuit?
Under Florida law, a wrongful death occurs when someone dies as a result of the negligence, recklessness, or deliberate actions of another. More than one party may be held liable for a single event, such as both the driver of a company vehicle who causes a fatal accident and the company that owns the vehicle. The liable party or parties can include individuals, government agencies, companies, or employees.
To establish wrongful death, an attorney must prove that an individual failed to behave in a reasonable, prudent manner; that his or her wrongful actions caused the death; and that damages resulted.
What Types of Accidents Can Lead to a Florida Wrongful Death Claim?
Families grieving the loss of a loved one may be able to pursue a claim for compensation following almost any type of accident involving another's negligence. Common types of accidents that can lead to a successful wrongful death claim include the following:
Medical Malpractice - This includes misdiagnosis or delayed diagnosis, inadequate service (such as wrong prescriptions), or inaction.
Workplace Accidents - Employers should make sure that their employees don't work in dangerous conditions or without proper safety equipment.
Motor Vehicle Accidents - Drivers are responsible for operating vehicles safely, and drivers who talk on cell phones, text, or drive under the influence of alcohol may provide grounds for a wrongful death claim.
Defective Products - Manufacturers are responsible for the safety of their products, including toys, power tools, vehicles, and other consumer products.
Recreational Accidents – Recreational activities, such as swimming, boating or visiting an amusement park, are supervised by companies that may be liable for a victim's death.
The experienced Miami wrongful death lawyers at Friedman Rodman Frank & Estrada can review your situation, answer your questions, and conduct an appropriate investigation to determine the facts surrounding your loved one's death. They'll evaluate your possible claim and help you take appropriate action quickly.
Who Can Bring a Miami Wrongful Death Lawsuit?
Members of your family who depended on the deceased for emotional and/or financial support may be eligible for compensation to help recover from their loss. These survivors include:
Spouses.
Children,
Parents, and
Other relatives who depended on the deceased for support.
How to Start a Wrongful Death Claim in Florida
In Florida, if you have a valid wrongful death claim, a probate estate will need to be opened and a personal representative appointed (usually a spouse, parent, or another appropriate person) who will bring the action on behalf of the estate and individual survivors. Our wrongful death claims attorneys can assist you in opening the estate and appointing a personal representative.
What Damages Are Available in a Wrongful Death Case?
Each survivor in a Florida wrongful death claim may be entitled to recover the value of lost support and services, the value of future support and services, and medical and/or funeral expenses. Survivors may also recover for non-economic damages such as the loss of the deceased's companionship and mental pain and suffering. Determining damages can be complex. For example, when an employed adult with dependent children dies, the court may consider:
Loss of income, with interest, both present and in the future;
Loss of parental companionship, guidance, and instruction; and
Mental pain and suffering.
In addition, a court may also impose punitive damages, which may be appropriate in situations where someone was intentionally or recklessly negligent and caused a death. Punitive damages punish the responsible party and discourage others from behaving similarly so that other people won't experience the same losses you have.
Speak With a Dedicated Wrongful Death Attorney Today
If you unfortunately lost a loved one in a preventable accident, your family may be entitled to significant compensation. At Friedman Rodman Frank & Estrada, we help families across South Florida navigate the legal process while protecting their rights with compassion and sympathy. Our attorneys have the extensive knowledge, experience, and skill you need to examine your legal options and seek fair compensation for your financial and emotional loss. To learn more contact us at our Miami law offices by calling (877) 448-8585. You can also reach us through our online contact form.