Drunk Driving Accidents
Compassionate Personal Injury Lawyers Diligently Represent Victims of South Florida DUI Crashes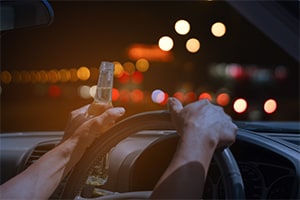 On some level, every car accident is preventable if drivers were to exercise the appropriate care behind the wheel. However, few accidents are as tragic as those involving a drunk driver because every single one can be so easily avoided. Yet, year after year, drunk driving is a leading cause of Florida motor vehicle accidents. At Friedman Rodman Frank & Estrada, we help individuals and families recover monetary compensation in personal injury cases stemming from drunk driving accidents. Our committed team of Miami DUI accident lawyers understands the pain and frustration your family is going through and vow to aggressively pursue your case at every step of the process.
The Effects of Drunk Driving
Every driver learns the dangers of drunk driving from a young age, even before getting their driver's license. Countless government programs and non-profit organizations dedicate vast resources to drunk-driving prevention. Unfortunately, many people forget about these dangers in the moment, when calling a cab or summoning an Uber seems inconvenient.
However, the dangers of drunk driving are very real. Alcohol has a profound impact on a motorist's abilities, including:
Increasing their reaction time;
Reducing their attention span;
Decreasing their ability to make sound decisions;
Inhibiting their coordination;
Causing them to become drowsy; and
Compromising their ability to assess risks.
Drivers who drink and drive put everyone at risk, and should be held accountable for their reckless actions.
Why Are Drunk Driving Accidents So Dangerous?
Drunk driving is responsible for a significant number of fatal car accidents when compared to other types of car accidents. According to the most recent data from Florida Highway Safety and Motor Vehicles, less than one percent of all Florida car accidents end in a fatality. However, those involved in a drunk driving accident have a one in ten chance of suffering a fatal injury.
One of the reasons for this is that drunk driving accidents are more likely to involve high speeds and direct impacts. For example, a drunk driver may doze off, drift out of their lane into oncoming traffic, causing a head-on collision. Or an intoxicated motorist may think they have time to make a left turn, but end up cutting off another driver who is traveling straight through the intersection. Given this reality, rollovers are very common following a drunk driving accident, which further increases the chances of a serious or fatal injury.
Recovering After a Miami Drunk Driving Accident
Florida law allows anyone injured in a drunk driving accident to bring a personal injury claim against the intoxicated driver. Because driving under the influence is illegal under state law, accident victims will often have an easier time proving their case than in other types of car accidents. This is because evidence that a driver was drunk, without more, is enough to prove that they were negligent.
In addition to filing a claim against an intoxicated driver, accident victims may also be able to pursue a claim against a bar or restaurant that overserves a patron who goes on to cause a DUI accident. Under the Florida Dram Shop law, any establishment that serves alcohol to a minor or someone who is "habitually addicted" to alcohol is liable for injuries caused by the party they served. Those injured in a Florida drunk driving accident should reach out to a dedicated personal injury attorney to discuss their claim and determine which parties may be liable for their injuries.
Reach Out to the Attorneys at Friedman Rodman Frank & Estrada to Schedule a Free Consultation
If you recently suffered injuries in a drunk driving accident or lost a loved one due to a drunk driver, the Miami personal injury and wrongful death lawyers at Friedman Rodman Frank & Estrada are here to help. For more than four decades, our firm has successfully represented countless accident victims and their families. Through our aggressive advocacy, we've secured numerous six- and seven-figure awards on behalf of our clients. To learn more about the services we provide and how we can help you bring a case against a drunk driver, give us a call at 877-448-8585 or 305-448-9818. You can also reach us through our online contact form. Our lawyers represent accident victims throughout South Florida, including but not limited to Miami, Miami Beach, Naples, Homestead, Fort Lauderdale and Orlando.