Cruise Ship Passengers
Respected South Florida Personal Injury Lawyers Diligently Pursue Compensation on Behalf of Injured Passengers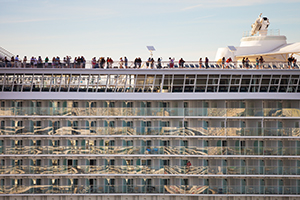 Cruises can be a great way to experience new places, with some of the risks that come along with mainland travel. However, cruise ship passengers still face hazards while onboard a ship. While injured passengers can bring a personal injury lawsuit against a cruise ship, these cases are especially complex because they often involve a unique set of laws called admiralty and maritime laws. At the South Florida personal injury law firm of Friedman Rodman Frank & Estrada, our attorneys have decades of experience handling cruise ship passenger injury claims and can effectively handle your case from beginning to end without interruption.
Types of Cruise Ship Injuries
Cruise ships are enormous vessels that more closely resemble a hotel or a small city than a boat. That being the case, cruise ships pose a variety of dangers to passengers, not just those commonly associated with boating accidents. Some of the most common cruise ship injuries include:
Food poisoning,
Swimming pool and water park accidents,
Elevator and escalator injuries,
Burns,
Falling objects,
Exposure to toxic chemicals,
Drowning, and
Loading and unloading injuries.
Regardless of the nature of your injuries, the experienced cruise ship injury lawyers at Friedman Rodman Frank & Estrada can help. We command an impressive understanding of the complex procedural and substantive legal rules that govern these cases, ensuring that your case is presented in a compelling and strategic manner for ultimate resolution.
Damages in a Florida Cruise Ship Lawsuit
Passengers injured while onboard a cruise ship can suffer serious, potentially life-changing injuries. These injuries may keep you from working for weeks, months, or even indefinitely. Additionally, you may be left with long-term pain, limited range of motion, and other symptoms that impact your quality of life.
By pursuing a personal injury claim against the cruise line responsible for your injuries, you can recover compensation for your economic and non-economic damages. While every case is different, a damages award typically compensates victims for the following:
Past and future medical expenses,
Lost wages,
Decrease in future earning capacity, and
Past and future pain and suffering.
However, obtaining the amount of damages you deserve after a cruise ship injury can be challenging because the cruise line's insurance company will almost always contest your claim. For example, the insurance company may argue that you were partially at fault for the accident leading to your injuries or that your injuries were not as serious as you claimed. This is where the assistance of an experienced attorney can make the difference between winning and losing a case.
At Friedman Rodman Frank & Estrada, our dedicated team of cruise ship injury lawyers has handled countless claims against cruise lines and knows all the insurance companies' tricks. We begin every client relationship by getting to know you and how the accident negatively impacted your life. This enables us to better assess your potential damages, so you know what a fair settlement offer looks like. If the insurance company is not willing to extend a fair offer, our experienced litigators will be ready to take your case to trial.
Where Can I Sue a Cruise Line?
When you purchase a ticket for a cruise, you agree to what's called a "venue selection clause." This is essentially an agreement between you and the cruise line that, if anything happens on the cruise resulting in a lawsuit, you agree to file the claim in a particular court. For most cruise lines, the venue selection clause requires any case against the company to be filed in a Florida court. For example, Carnival, Disney Cruise Line, MSC Cruises, Norwegian Cruise Lines, and Royal Caribbean are all based in Florida.
Have You Been Injured on a Florida Cruise Line?
If you or a loved one recently suffered serious injuries while aboard a cruise ship, reach out to Friedman Rodman Frank & Estrada to schedule a free consultation. Our legal team regularly represents clients from across the country in personal injury cases against Florida cruise lines. We also offer all injury victims a free consultation, and, if you decide to bring a claim with us, we will not bill you for our services unless and until we can recover compensation on your behalf. To schedule a free consultation with one of the cruise ship injury lawyers at Friedman Rodman Frank & Estrada, call 877-448-8585 today.