Workplace/Construction Accidents
Experienced Worker's Compensation Lawyers Securing the Benefits Injured Employees Need and Deserve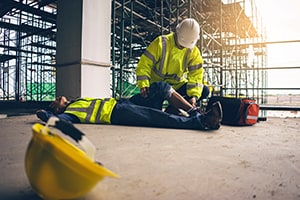 Our great nation was built by construction workers. Construction workers have always played a critical role in our society. They build our roads, houses, hospitals, shopping centers, entertainment complexes, and workplaces, as well as repair and maintain our country's infrastructure. This industry is huge – according to the federal Occupational Safety and Health Administration (OSHA), there are about seven million people engaging in construction across the United States, and nearly five percent of all Florida employees work in the construction industry.
Unfortunately, due to the dangerous nature of the work, the accident rate in the construction industry is very high. The Bureau of Labor Statistics reports that construction accounted for the highest number of fatal work injuries of any industry sector in 2021.
How Can Employers Reduce Construction Accidents?
Establishing safe habits while working on a construction site is critical. Safety should be the number one priority in every working environment. Managers should ensure all employees are aware of all rules and safety practices. It is the employer's duty to administer safety precautions and to provide all employees with proper training to help prevent dangerous accidents from occurring. In addition, managers should set their employees up for success, regularly updating safety procedures and leading by example.
Construction accidents are among the most severe of all workplace accidents – due to the dangerous equipment and hazardous materials at most job sites. OSHA, a division of the U.S. Department of Labor, has set up specific workplace safety rules and regulations to which all employers in the United States must comply. These rules include ensuring all workers have the proper safety equipment, such as goggles, helmets, gloves, and other protective gear. OSHA also requires that employers perform regular inspections of equipment to ensure its proper use, as well as regular inspections of the job site itself. These inspections could mean the difference between life and death for construction workers.
Every employee has the right to work in an environment that does not put their health or safety at risk. When an employer is negligent in their duties to provide a safe workplace, employees are put at risk. Employees can suffer catastrophic injuries resulting in permanent disability such as loss of limbs, head injuries, blindness, broken bones, amputation, and even worse, death.
What Are the Most Common Types of Construction Accidents?
Some of the most common types of construction accidents include:
Construction site falls,
Mishandling of hazardous materials,
Scaffolding accidents,
Lifting accidents,
Concrete accidents,
Workers being run over by operating equipment,
Electrical accidents,
Explosions,
Errors in truck loading and unloading,
Product liability,
Equipment accidents,
Equipment malfunctions,
Trench collapses,
Fires and explosions, and
Welding accidents.
Many workplace accidents are entirely preventable if employers instill stricter safety precautions and establish better workplace procedures, such as promoting a clean, organized environment and being more aware of potentially dangerous working conditions. It is also an employer's responsibility to protect their employees by carefully selecting new hires, implementing safety checklists, adopting and enforcing safety procedures, providing formal training, and conducting occasional drills and inspections.
Florida Workers' Compensation Claims
Employees who suffer serious injuries in an on-the-job accident may be entitled to worker's compensation to cover lost income, medical bills and other expenses while receiving medical attention. In some cases, workers may be eligible for a lump sum settlement or lifetime permanent disability payments.
To prove a workers' compensation claim, you don't need to establish that anyone else was at fault for your injuries. Instead, you just need to prove that your injuries were related to your employment. This includes injuries that occur while working as well as those that develop over time and as a result of an employee's job duties.
At Friedman Rodman Frank & Estrada, our Miami work injury attorneys help workers throughout Florida file worker's compensation claims to receive the compensation that they are due on account of their injuries.
Discuss Your Case With a Worker's Compensation Law Firm Experienced in Handling Construction Accidents
At Friedman Rodman Frank & Estrada, our main objective in every case is to maximize the value of your total workers' compensation benefits and monetary settlement. To achieve these results, we look for every valid claim that can be brought on your behalf. This includes third party injury claims involving the negligence of subcontractors and their employees, vendors, and product manufacturers. Contact our South Florida workers' compensation lawyers by calling us toll-free at (877) 448-8585. You can also reach us through our online contact form.