Texting and Driving Car Accidents Related to Cell Phone Use
Florida Car Accident Attorneys Helping Victims of Distracted Driving Secure Maximum Damages Awards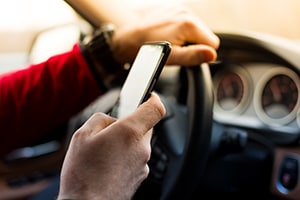 Miami is one of the largest metropolitan areas in the world, which means the roads are heavily trafficked. In fact, we are number 11 in the top 15 most traffic-ridden cities in the world, making us extremely prone to car accidents related to texting and driving in Miami and the surrounding areas. Driving on busy roads like the Turnpike is a harrowing experience requiring undivided focus, but the increased prevalence of cell phones has made road conditions even tougher.
Car accidents can occur for many reasons, including harsh weather conditions, abrupt stops, and among other reasons, negligence. In cases where a driver becomes distracted by their phone use and makes careless decisions, he or she is considered negligent. If you have been involved in a collision caused by another's negligence, it's important to speak to an attorney that can help you navigate your options. The attorneys at Friedman Rodman Frank & Estrada have over 100 combined years of experience helping clients like you bring about a favorable resolution to what is otherwise an unfortunate event.
Types of Accidents Caused by Cell Phone Use
You may have found yourself involved in a cell phone-related accident and have been curious about how cell phone use may have affected the situation. Here are some examples of accidents that are caused by cell phone usage:
Using only one hand to drive due to tending to a cell phone.
Looking at your phone to change music, control GPS functionality, send a text message, or make a call.
Lack of spatial awareness due to distractions caused by a cell phone.
Distracted driving due to a heated phone conversation, even if using a hands-free device.
All of these examples are cause for heightened alert as more and more states and municipalities have banned cell phone use while driving. Stiff fines and penalties are given to those who are caught in the act, while cell phone users whose careless driving led to an accident are even further penalized. However, these sanctions are intended to punish distracted drivers rather than compensate victims of an accident. To obtain compensation after a texting and driving accident, victims must pursue a personal injury claim. Families who lost a loved one in a Miami distracted driving accident can also pursue a wrongful death claim against the at-fault driver.
Obtaining Compensation After Texting and Driving Accidents
If you've been a victim of a texting and driving car accident in Miami, you may have a right to compensation from the party at fault. An attorney will help you file a personal injury claim where you can seek compensation for any and all economic and emotional damages you may have received. This includes any wages you've lost due to the accident and future wages that may be lost, any medical expenses you've incurred, damage to your property, and past and future pain and suffering. We're here to help you recover what you've lost and will lose due to your accident and will seek any and all avenues available to obtain compensation for you.
Speak With a Miami Distracted Driving Lawyer at Friedman Rodman Frank & Estrada
If you've been injured in an accident and believe the other driver was texting and driving, reach out to Friedman Rodman Frank & Estrada. Given our proven track record, your case is safe with us. You can rest assured that our attorneys and staff will be devoted to your case as if it were their own because we fight for our clients until no stone is unturned. Don't let inexperienced attorneys mismanage your right to seek the compensation you deserve for what you've been through. Our attorneys do not get paid unless and until there is a successful resolution of your claim. Contact our South Florida motor vehicle accident lawyers by calling us toll-free at (877) 448-8585. You can also reach us through our online contact form.