Freeway Accidents in Miami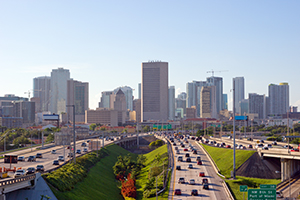 Any accident can turn catastrophic, but freeway accidents in Miami tend to be severe, if not deadly. The primary culprit in escalating accidents on the Miami expressways and those of the surrounding areas is a complex combination of the high speeds, heavy traffic, and large, confusing multiple lanes. Given the contrived junctions connecting many of our roads, it is no surprise how many residents find themselves victims to accidents every day.
If you have been involved in a freeway accident, it is imperative that you make contact with an attorney right away. Our attorneys have been representing injured drivers and passengers in freeway accident cases in Miami for decades and have the experience to help you fight for compensation that is rightfully yours. You can be certain that the insurance company and other involved parties will hire legal representation; do not be left out in the cold.
Types of Freeway Accidents in Miami
Accidents on the freeway have a tendency to do more severe damage due to the high speeds at which vehicles are moving. Permanent damage can result when colliding with a vehicle at 10 miles per hour, yet several stretches of our freeways mandate a minimum of 40, at which point an impact can easily become deadly. Here are some examples of personal injuries caused by accidents we see on a frequent basis:
Broken bones
Neck and back pain
Shoulder limitation of movement
Paralysis
Quadriplegia
Severe burns
Amputated limbs
Scarring
Chronic pain
Death
Your accident may have been caused by a multitude of different reasons, all of which need to be explored and thoroughly understood. Negligence of a driver, road hazards, or unexpected road conditions may have factored into your accident. Our attorneys have the necessary skills and experience to bring your case to a successful resolution. We may hire investigators to assess the scene of the accident, investigate the other parties involved, and determine where culpability exists. Before you accept any offers from insurance companies or other drivers, speak with us; your compensation will practically always be greater with an attorney than what they attempt to give you without an attorney.
As devastating as your or your loved one's injuries may be, you need to contact a team of lawyers who can fight for the compensation that you deserve. Whether it is compensation for a temporary or permanent disability, loss of life, rehabilitation expenses, medical costs, lost wages, property damage, damage to your body, and pain and suffering, our team is prepared to win for you. Often, we hear of clients that miss out on opportunities to claim appropriate reparations for wrong done for fear of the unknown. Let our attorneys represent you, as they represent hundreds of clients each year in their quest for fair compensation on account of injuries that have changed their lives.
Contact Us Today
Do not waste the opportunity to obtain compensation you should be awarded due to the fault of another. Contact us today for a free and confidential consultation to discuss your claim and determine what the preferred route to recovery is for you and your family. With over 100 years of cumulative experience handling freeway accidents in Miami, our attorneys are ready to represent you in the pursuit of your claim and demand compensation for what has been taken from you. Call us today at 305-448-8585 to speak with a qualified attorney. We are not paid unless there is a successful outcome to your case.