Underinsured and Uninsured Motorists
Miami Uninsured / Underinsured Motorist Lawyers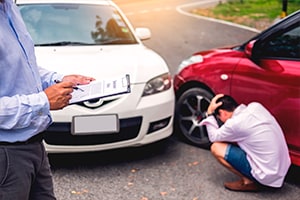 Car accidents can be some of the most challenging events people ever experience. But when a negligent driver does not have insurance — or doesn't have enough insurance — the experience can become a nightmare.
At the South Florida law offices of Friedman Rodman Frank & Estrada, P.A., we offer strong advocacy and legal counsel to victims hit by underinsured and uninsured motorists. We also provide vigorous representation to hit-and-run accident victims.
We will apply our 45+ years of experience and legal skills to help you obtain compensation for the damages you have suffered. Contact our law firm today to meet with a highly skilled Miami car accident attorney today.
Handling Uninsured / Underinsured Motorist Claims in Miami
If you were hit by a motorist who did not have insurance or is underinsured, you likely feel overwhelmed and may be uncertain about how to pay for your accident-related expenses. We will act quickly to identify potential sources of recovery.
We are immediately available to evaluate your insurance policy to determine if it includes uninsured/underinsured motorist coverage. This would allow you to recover compensation up to the limits of your insurance policy for your past and future medical expenses, lost wages, pain and suffering and any property damages. We can also explore the possibility of stacking multiple uninsured/underinsured policies to increase your recovery options. Any amounts recovered through your insurance policy or policies would be in addition to what you recover from the party at-fault party.
However, insurance policies can be complicated and insurance companies can be difficult to deal with. Even if your insurance policy includes uninsured/underinsured coverage, your insurance company may try to deny your claim or limit the amount you receive. This is a roadblock we are fully prepared to overcome. Our law firm has a strong background going head-to-head against insurance companies and will not hesitate to pursue a bad faith insurance claim, if necessary.
Pursuing Additional Compensation for Accident Victims
In addition to an uninsured motorist claim, Florida's no-fault auto insurance laws require that your insurance cover the first $10,000 of your medical expenses — regardless of fault. Stacking underinsured/uninsured policies allows you to increase your total available coverage based on the number of vehicles on your policy. This would allow you to recover additional compensation up to the limits of your policy, regardless of fault. We are committed to identifying every opportunity available for you to recover compensation for the unfortunate damages you have endured and have handled countless claims resulting from accidents caused by underinsured and uninsured motorists.
Advocating for Victims of Hit-and-Run Accidents in Miami
If you were run off the road or hit by an unidentified hit-and-run driver, we will advocate to protect your rights. Our team of Miami car accident lawyers has extensive experience conducting investigations to determine the identity of hit-and-run motorists. We will evaluate the police report and will meet with any eyewitnesses to try identify and locate the hit and run driver. Whenever necessary, we will also consult accident scene reconstructionists to help us better understand that accident and determine who may have caused it.
However, in some situations, at-fault drivers, unfortunately, cannot be identified because they may have driven off. We then act quickly to help hit-and-run accident victims recover compensation through pursuing an uninsured/underinsured motorist benefits claim. We also identify other sources of recovery through Personal Injury Protection benefits. We want to help you obtain the compensation you need to rebuild your life.
Contact a Florida Uninsured Motorist Lawyer for a Free Consultation
Victims of underinsured and uninsured motorists face an uphill road to recovery; however, at Friedman Rodman Frank & Estrada, we are here to help. Our door is always open for personal injury victims. We fight hard to recover compensation for victims of uninsured or underinsured accidents. To discuss your options with an experienced Florida uninsured motorist attorney, contact us online or call toll free at (877) 448-8585. You can also reach us through our online contact form. We are available 24 hours a day, seven days a week. All consultations are free and confidential. We serve clients all over South Florida, including but not limited to Miami, Miami Beach, Naples, Homestead, Fort Lauderdale and Orlando, and we do not collect an attorney's fee until the successful resolution of your case.