Road Rage Accidents in Miami
Experienced Car Accident Lawyers Representing Accident Victims Across South Florida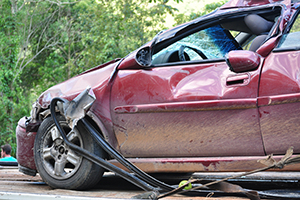 While everyone gets frustrated when driving from time to time, some drivers let their temper get the better of them engage in aggressive driving behavior. In fact, more than 75% of drivers admit to driving aggressively from time to time. Road rage is an extreme form of aggressive driving that places everyone on the road at risk. If you've been injured in a Florida car accident involving another driver's road rage, the dedicated personal injury lawyers at Friedman Rodman Frank & Estrada can help. Our attorneys have over 45 years of experience holding aggressive and reckless drivers accountable for their actions. With our help, you can effectively pursue a claim for compensation through a road rage accident lawsuit.
What Is Road Rage?
Road rage is a driver's extreme reaction to the regular frustrations that often come along with driving. Although it is a form of aggressive driving, road rage typically involves more than quickly whipping around a slow-moving vehicle or failing to use a turn signal to pass another car. Road rage is when an angry driver intentionally tries to hurt another driver or pedestrian. Over the past ten years, there have been more than 12,000 injuries and hundreds of car accident deaths resulting from road rage car accidents.
A few examples of road rage include:
Tailgating
Cursing or making obscene gestures
Cutting in front of another driver and then slowing down
Weaving in and out of traffic
Intentionally blocking a driver's path
Getting out of the car to confront another driver
Throwing objects from a vehicle
Running another car off the road
Intentionally crashing into another vehicle
In Florida, there are no laws specifically prohibiting road rage; however, an angry driver's actions may form the basis of another criminal charge. For example, a driver who uses their vehicle to intentionally hit another car may face aggravated assault charges.
However, a criminal conviction does little for those injured in a road rage accident. Accident victims hoping to recover financial compensation for their injuries must bring a road rage accident lawsuit.
Bringing a Florida Road Rage Accident Lawsuit
Florida law allows for an accident victim to pursue a civil claim for damages against any driver who negligently causes a car accident. This includes drivers who cause road rage accidents. To succeed in a claim against an aggressive driver, you must establish that they owed you a duty of care, that they violated that duty, and that the driver's violation of the duty they owed you caused your injuries.
In some road rage accident cases, these elements are easily met. For example, drivers owe everyone else on the road a duty of care, and engaging in aggressive driving behavior is a clear breach of a driver's duty. However, sometimes the other driver will claim that you played a role in causing the accident. Of course, even if you committed a minor traffic infraction, that will not justify another's road rage. That said, this is something to be aware of because an insurance company may choose to focus on any actions you took that could be seen as contributing to the accident.
Reach Out to a Florida Road Rage Accident Attorney to Discuss Your Case
If were recently injured in an accident caused by another driver's angry and aggressive driving, contact the South Florida personal injury lawyers at Friedman Rodman Frank & Estrada to discuss your options. At our firm, we take an individualized approach to every case we handle. We take the time to listen to what is important to you, and incorporate that into our overall case strategy. Since 1976, we've helped countless injury victims obtain meaningful compensation in cases involving all types of motor vehicle accidents. To learn more, and to schedule a free consultation with a Miami personal injury attorney, give us a call at 877-448-8585 or 305-448-9818. We provide free consultations and take all cases on a contingency basis, meaning you won't pay for our representation unless and until we can recover compensation on your behalf. We serve clients across South Florida, including but not limited to Miami, Miami Beach, Naples, Homestead, Fort Lauderdale and Orlando.