Rear-End Collisions in Miami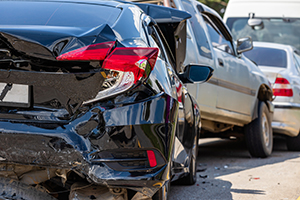 Rear-end collisions can range from a mundane bumper-to-bumper accident to something gravely destructive, both to property and life. If you have been involved in a rear-end collision in Miami, the time to contact our attorneys is now.
Driving through our expressways and roads, one will quickly notice how crowded our streets appear to be. Coupled with our Florida heat and the general impatience of drivers wanting to get home quickly, we see rear-end accidents happen on a regular basis. Many clients seek our help when attempting to decide how to proceed after their accident has taken place, but the sooner you contact us, the better the chances we have to make a strong case on your behalf and help you recuperate the losses and damages you have sustained. Contact our team at 305-448-8585 to discuss the details of your rear-end collision.
Examples of Rear-End Collisions in Miami
Rear-end accidents can happen on any given road, at any time of day, and at any speed, which is what makes them one of the most common types of accidents and one that we have many years of experience pursuing. Here are some common examples of how rear-end collisions might take place:
The leading vehicle is forced to stop quickly, unable to give the following car a chance to stop. This can happen when the driver is distracted or their vision has been obstructed.
The following vehicle is driving too close to the leading vehicle. There is not enough distance between the vehicles for proper stopping procedure. This is often a sign of aggressive driving in what is known as "tailgating."
The following vehicle is speeding or driving recklessly, preventing it from stopping in time and hitting the leading vehicle.
Injuries in a Rear-End Collision
There are a multitude of possible injuries that can afflict, cause pain or suffering, to both the driver and passengers of either vehicle involved in the accident. The injuries sustained may require surgery, therapy, medication management, injections, or even amputation. A claim can be brought on your behalf to secure the cost of medical attention causally related to the accident. These are the most common injuries sustained in a rear-end collision:
Neck injuries, including hyperextension of the vertebrae
Head trauma
Shoulder limitation of movement
Broken bones
Severed limbs
Back pain
Death
Seeking Compensation
Your compensation will be based upon the extent of your injuries, but that does not mean that you should let a seemingly innocuous accident slip by. Often, injuries present themselves after a collision, perhaps days, weeks, or months after, once our bodies have had time to process the event. You should take every measure to ensure you are injury-free, even if there are no obvious signs of injury. For those with clear and evident injuries and those with not so clear or evident injuries, our goal is to help you obtain the compensation you deserve, which should include the expenses you have incurred due to the accident, any income you have lost because of it, as well as your past and future pain and suffering. If there has been a fatality, our attorneys will be with you every step of the way to help you pursue a wrongful-death claim on behalf of your loved one.
Regardless of the extent of your injuries, you should act quickly. There are statutes of limitations for rear-end collisions in Miami, with four years after the date of the accident to file a lawsuit if you were injured in the crash and two years after the date of death if your loved one died as a result of the accident. That's why you need an experienced team of attorneys on your side who can swiftly and competently prepare your case and demand compensation for your losses. To discuss the details of your claim and to set up a free, confidential consultation, call us at 305-448-8585, or contact us online. We are available to have the consultation in English, Spanish, or Creole.