Teen Car Accidents in Miami
Skilled Miami Personal Injury Lawyers Helping Car Accident Victims Obtain the Compensation They Deserve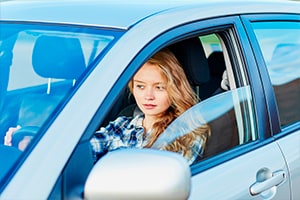 Every teenager's dream is to get behind the wheel of a car. However, parents are often hesitant to let teenagers drive on their own, and for good reason. Teenagers lack the skill, experience, and judgment of older drivers and, as a result, Miami teen car accidents are common. If injured in a car accident involving a young driver, know that the lawyers at Friedman Rodman Frank & Estrada are here for you. We can help you pursue a claim to recover financial damages for your injuries. Whether you were involved in the accident or it was a loved one who was hurt or killed in the collision, we will do everything in our power to ensure the best possible result in your case. This includes pursuing every avenue available to successfully obtain adequate compensation for your losses from all responsible parties.
Common Reasons for Miami Teen Car Accidents
The primary reason why there are so many car accidents involving teenagers is that teens have little driving experience. In fact, teenage drivers aged 16-19 are three times as likely to be involved in fatal car crashes as compared to the general population.
The three most common causes of teen car accidents are:
Distracted Driving
Distracted driving is a leading cause of car accidents among all age groups. However, as cell phones demand an ever-growing percentage of our attention, teenage drivers find it especially challenging to focus on the road and spend too much time on their phones. Thus, one of the first investigative avenues we pursue in any teen car accident is reviewing the at-fault driver's phone records to determine if they were talking or texting in the moments leading up to the accident.
Speeding and Other Forms of Aggressive Driving
Scientifically speaking, teens' brains are not yet fully developed. This often means that they exhibit questionable decision-making when behind the wheel. Teens often speed, cut in and out of traffic, run stop signs, or engage in other dangerous driving behaviors that put motorists, pedestrians and cyclists at risk.
Failing to Follow Traffic Laws and Posted Traffic Signs
Another leading cause of Miami teen car accidents is a young driver's failure to follow traffic rules and traffic signs. Because teen drivers lack the experience of more seasoned motorists, they may become more easily confused when unique traffic patterns arise, might not know who has the right of way, or make some other type of mistake due to their inexperience.
Drunk Driving
While it is against the law for teens to drink alcohol, it would be naïve to think that most teens don't drink from time to time. Of course, the effect of alcohol on a young driver's brain impacts their reaction time, judgment and decision-making abilities, significantly increasing the likelihood of an accident. And under the Florida dram shop law, contained in Florida Statutes § 768.125, those who sell or provide alcohol to a minor may be liable for any injuries caused by the minor's intoxication —including car accidents.
Schedule a Free Consultation With an Attorney With Hands-On Experience Handling Teen Car Accidents in Miami
The attorneys at Friedman Rodman Frank & Estrada, P.A. have over 100 combined years of experience handling cases involving negligent teen drivers and fighting for those injured due to these preventable accidents. Whether your accident occurred on an expressway or a local road, you deserve to have a team of professionals on your side investigating every aspect and detail of your case. To learn more about how Friedman Rodman Frank & Estrada, P.A. can help you recover compensation for what you've been through, contact us at (877) 448-8585. We are available 24 hours a day, seven days a week, to set up a free consultation and discuss the details of your claim.
We serve clients all over South Florida, including but not limited to Miami, Miami Beach, Naples, Homestead, Fort Lauderdale and Orlando. Consultations are confidential and available in English, Spanish, or Creole. We don't get paid unless and until there is a successful resolution of your claim. Call for a free consultation.