Miami Drunken-Driving Accidents
Aggressive Personal Injury Lawyers Serving Car Accident Victims Throughout South Florida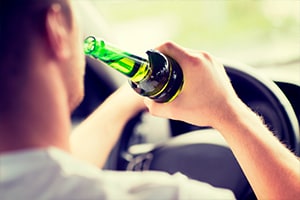 Miami is known as a city that knows how to party. And while most residents and visitors are able to responsibly have a good time, that isn't the case for everyone. Too often, partiers get behind the wheel after having too much to drink, putting everyone else on the road at risk. At the Miami personal injury law firm of Friedman Rodman Frank & Estrada, P.A., we help accident victims and their loved ones secure compensation for what they've been through. Our hard working advocates have more than 45 years of experience successfully pursuing justice on behalf of victims of Miami drunk driving accidents.
How Common Is Drunk Driving in Miami?
According to the Florida Department of Highway Safety and Motor Vehicles, in 2021, there were more than 5,000 confirmed alcohol-related crashes across the state. In Miami alone, 17 people were killed in DUI accidents that year, and another 144 were seriously injured. And unfortunately, the numbers don't seem to be improving.
What to Do After a Drunk Driving Accident
It's catastrophic when your life or the lives of your friends and family are changed due to drunk drivers' irresponsible actions. However, following a DUI accident, you may be eligible to receive compensation for your injuries and other expenses that are not covered by insurance. In some cases, you may also be able to receive punitive damages, which are damages meant to punish the driver who was responsible for your accident. You can pursue these damages by filing a Miami drunk driving lawsuit.
Proving a Miami DUI Case
In most car accident cases, proof of negligence is enough for the driver to be held accountable for damages. Drunk driving cases are no exception. However, under Florida's negligence per se law, the fact that a driver was driving drunk may give rise to a presumption that they were negligent. This can make it easier to prove your claim.
There are a few other things you should know in order to protect your rights following a DUI accident:
Gather as much information from the scene, including photos, witness statements, contact information, etc.;
See a doctor as soon as possible and follow all medical advice;
Contact your insurance company immediately to report the accident;
Don't sign anything from any insurance adjusters; and
Contact a knowledgeable Miami DUI accident attorney
If you or a loved one has suffered as a result of a DUI accident, or if you have lost a loved one due to a drunk driver, the experienced attorneys at Friedman Rodman Frank & Estrada, P.A. can help. With over 100 years of combined service, our lawyers will provide experienced, dedicated and individualized representation to help you recover for your injuries.
Why Choose Friedman Rodman Frank, P.A. to Represent You?
Florida has laws specifically designed to help victims of DUI accidents. We understand the challenges victims face after Miami drunk driving accidents and handle each case with the utmost compassion, respect and understanding. We are committed to ensuring you receive maximum compensation for what you've been through. While every case is different, most accidents victims who successfully bring a case can recover compensation for:
Medical bills,
Future medical expenses,
Loss of past, current and future income,
Damages for pain and mental suffering,
Mental anguish, and
Property damage.
Contact the Law Firm of Friedman Rodman & Frank, P.A. to Schedule a Free, No-Obligation Consultation Today
If you've been injured in a Miami drunk driving accident, Friedman Rodman Frank & Estrada, P.A. is here to help. Attempting to collect compensation through insurance companies can be complicated, and you will likely need the assistance of an experienced lawyer. At Friedman Rodman Frank & Estrada, P.A., we will help you collect compensation beyond that which is provided through regular insurance claims. We will use our extensive resources to collect, organize and present evidence on your behalf. We help individuals and families across Miami navigate the legal process while protecting their rights. Our attorneys have the extensive knowledge, experience, and skill you need to determine your full legal options and seek fair compensation for your injuries.
Contact us by phone at (877) 448-8585, 24 hours a day, seven days a week, to set up a free consultation and discuss the details of your claim. We serve clients all over South Florida, including but not limited to Miami, Miami Beach, Naples, Homestead, Fort Lauderdale and Orlando. Consultations are confidential and available in English, Spanish, or Creole. We don't get paid unless and until there is a successful resolution of your claim.