Fort Lauderdale Wrongful Death
Compassionate Fort Lauderdale Personal Injury Lawyers Pursuing Compensation on Behalf of Grieving Families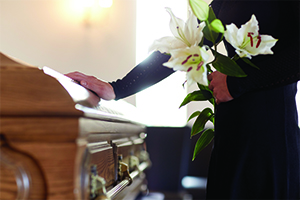 For many, the death of a loved one is one of the most difficult things they will face in a lifetime, no matter what the circumstances. Such a tragedy is magnified when another's negligence is to blame for your loved one's death. Wrongful death lawsuits offer a way for families impacted by these tragedies to obtain justice on behalf of their loved ones for their losses. At the Fort Lauderdale wrongful death law firm of Friedman Rodman Frank & Estrada, our attorneys work closely with families to ensure those responsible for their tragic losses are held accountable.
What Is a Wrongful Death Lawsuit?
Simply put, a wrongful death is a death caused by the negligence of another person. A wrongful death can follow after any fatal accident, including:
Truck accidents,
Nursing home abuse and neglect,
Defective products, and
Workplace accidents.
Because wrongful death cases fall under the larger umbrella of personal injury cases, to successfully recover for the loss of a loved one, families must be able to establish that another person or entity violated a duty of care that was owed to their loved one and that the other party's breach of this duty resulted in their loved one's death.
What Is the Difference Between Criminal Cases and Wrongful Death Lawsuits?
The local prosecutor or district attorney may file a criminal case against a person who causes another's death; however, the primary purpose of criminal cases is not to provide compensation to grieving family members but to punish the wrongdoer for violating the law. However, surviving family members may also decide to file a civil lawsuit, called a wrongful death claim. Wrongful death claims are solely intended to award grieving families with fair compensation for the loss of their loved ones.
A wrongful death lawyer in South Florida can help you understand who can legally bring a civil action, who to file a wrongful death action against, and what damages you can recover through the suit. At the South Florida law firm of Friedman Rodman Frank & Estrada, our decades of experience dealing with wrongful death cases provides us with the know-how to get results.
We are dedicated to protecting your rights and your financial future. We will exhaust all legal remedies to ensure that those responsible for your loved one's untimely death are brought to justice and that you receive the maximum compensation to cover the following:
Medical expenses
Funeral expenses
Loss of income of the deceased
Mental pain and suffering
Loss of companionship and protection
At the same time, we recognize that this is an exceptionally challenging time for you and your family, and we strive to make the recovery process as easy on your family as possible. Along those lines, we set aside as much time as necessary to explain the process in clear terms, make ourselves available to answer your questions, and always treat you and your family with the respect and dignity you deserve.
Who Can Bring a Fort Lauderdale Wrongful Death Case?
Only certain individuals have the ability to file a wrongful death claim. Under Florida's wrongful death law, the personal representative of the deceased's estate must bring these claims. Typically, a personal representative is named in the deceased's will; however, if the deceased did not name a personal representative, the court will appoint one. Our law firm will assist in handling this for the family.
Speak with a Fort Lauderdale Wrongful Death Attorney at No Cost to You
If you have reason to believe the death of a loved one was caused by the fault of another, call the law firm of Friedman Rodman Frank & Estrada to schedule a free consultation. Our compassionate personal injury attorneys have more than 45 years of experience aggressively pursuing compensation on behalf of grieving families. To learn more about wrongful death cases in Florida and to speak with an attorney about your case today, call 877-448-8585 for a free consultation. Our attorneys are available 24 hours a day, seven days a week, to speak with you in English, Spanish and Creole. Sé Habla Español / Nou Parlé Creole.