Fort Lauderdale Boat Accidents
Experienced Maritime Accident Attorneys Serving Clients Throughout South Florida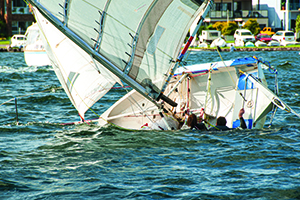 Boating is one of the most popular recreational activities in Florida, the Sunshine State. The State's extensive coastline, and numerous bodies of water, make Florida one of the best spots for boating. Unfortunately, Florida also has one of the highest rates of boating accidents in the country. At the personal injury law firm of Friedman Rodman & Frank, our attorneys have decades of experience handling all types of Fort Lauderdale boat accidents. We can arrange to meet with you as soon as possible to discuss your rights and help you determine the best way to proceed with your case.
What Are the Most Common Causes Of Boat Accidents?
Like motor vehicle collisions, boating accidents can happen anywhere, at any time, and without any warning. While most boating accidents are entirely avoidable, boaters who engage in risky behavior put everyone else on the water at risk. Below are some of the most common causes of boat accidents in Fort Lauderdale.
Alcohol
Over a third of boating accidents happen when the boat operator has been drinking. Boating while intoxicated is not only very dangerous, it is a criminal offense. Of course, a criminal case against an intoxicated boater does not provide the victim with compensation for what they've been through. Instead, accident victims must pursue a boat accident personal injury claim or lawsuit.
Severe Weather
Floridians experience some of the most severe weather in the world. High winds and heavy rains can make operating a boat very challenging—even for experienced operators. However, even during times of severe weather, boaters must exercise sound judgment and should refrain from heading out on the water during extreme conditions.
Inexperienced Operators
Unlike many other states, Florida does not require boaters to obtain a license unless they were born after January 1, 1988. The result is that there are many inexperienced boaters in Florida. Unfortunately, these operators may lack the experience to maneuver a boat through challenging conditions, which can result in severe—and even fatal—accidents.
Defective Equipment
If the engine, steering mechanism, or another piece of equipment on a boat fails due to a product defect, the operator will almost certainly experience difficulty safely driving the boat. This frequently leads to serious accidents and injuries.
Those responsible for a Fort Lauderdale boat accident may be liable for victims' injuries, including medical bills, lost wages, and any non-economic losses associated with the accident, such as pain and suffering and loss of quality of life.
Types Of Boating Accidents
Boating accidents vary widely in terms of their causes and the resulting injuries. Some of the boating accidents we have dealt with in the past few years include:
Collisions with other vessels or underwater objects;
Crashes caused by traveling at excessive speeds;
Boats sinking, capsizing, or running aground;
Passengers falling overboard and striking an underwater object or another boat;
Persons being struck by a boat or propeller;
Fires and explosions; and
Carbon monoxide poisoning from boat exhaust and defective systems.
Regardless of the nature of the accident, it is important to speak with an experienced Fort Lauderdale boating accident lawyer to discuss your case.
Contact the Experienced Fort Lauderdale Boating Accident Lawyers at Friedman Rodman Frank & Estrada to Schedule a Free Consultation Today
If you or a loved one was seriously injured in a South Florida boating accident, our experienced legal team is prepared to help. For more than 45 years, the law offices of Friedman Rodman Frank & Estrada has helped boat accident victims and their families collect the compensation they are entitled to for injuries, or deaths, resulting from boating accidents. To schedule a free consultation with one of our experienced personal injury lawyers, call our Ft. Lauderdale offices toll-free at 877-448-8585. You can also complete our online contact form, and one of our lawyers will be in touch shortly. Calling is free, and we will not bill you for our services unless and until we can recover compensation on your behalf. Consultations are available in English, Spanish, and Creole.