Fort Lauderdale Truck Accidents
Respected South Florida Personal Injury Attorneys Serving Accident Victims Throughout Broward County and All of South Florida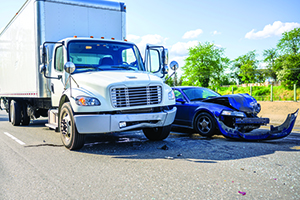 Every 16 minutes, a person is killed or injured in a truck accident. The massive weight of an 18-wheeler, particularly at highway speeds, creates tremendous force in a collision with another vehicle. The devastating impact results in death or incapacitating injury more than 50 percent of the time - usually to those in the passenger vehicle.
If you've been injured in a Fort Lauderdale truck accident, the injury attorneys at Friedman Rodman Frank & Estrada can help. For more than four decades, we've stood alongside accident victims, helping them recover compensation for their physical and emotional injuries. We offer free consultations to all prospective clients, during which we will explain your rights and how we can help connect you with financial damages for everything you've been through.
What Are the Causes of Truck Accidents?
Truck accidents can occur for many different reasons; however, most are the result of driver error. Truck drivers spend long hours on the road, operating massive vehicles that carry thousands of pounds of cargo. Even a small error can have disastrous consequences. Some of the most common causes of truck accidents include:
Speeding,
Disobeying safety procedures,
Poor maintenance,
Failure to yield right of way,
Impaired driving,
Back-up accidents,
Brake failures,
Tires blow-outs,
Overloaded or improperly loaded cargo,
Distracted driving, and
Aggressive driving.
Regardless of the cause of a Fort Lauderdale truck accident, it is important to speak with a personal injury attorney about the accident because you are likely entitled to monetary compensation from the truck driver or the trucking company for your damages.
Recovering Compensation After a Truck Accident
While the other driver in car accidents is the primary source of financial compensation, truck accidents can involve more possible sources of legal responsibility for the accident. In addition to a driver's negligence, truck accident cases can turn on a number of factors, including inadequate maintenance and vehicle defects for which manufacturers or trucking companies may be liable.
The fact that so many parties can share in the blame for a single accident makes truck accident cases very complex and often challenging and expensive to pursue. Our attorneys will work to see that all parties responsible for the tragic accident compensate you for your past and future losses.
Tractor Trailer Accident Lawyers
Trucking companies and their insurers are aggressive when it comes to defending claims against them. Insurance companies will often make a low settlement offer to an accident victim even those who have suffered a serious injury such as a brain injury, neck injury, or spinal cord injury in hopes of getting them to settle the case for pennies on the dollar. Our goal at Friedman Rodman Frank & Estrada is to help you recover the maximum amount of compensation you are entitled to receive.
Every case is unique; however, victims of a Fort Lauderdale truck accident who successfully bring a claim may be entitled to compensation for the following:
Medical bills,
Past and Future medical care, including surgery, home care, medications or medical equipment,
Lost wages,
Future earnings,
Loss of quality of life,
Pain and suffering, and
Punitive damages.
Discuss Your Injuries with a Fort Lauderdale Truck Accident Lawyer Today
At Friedman Rodman Frank & Estrada, our highly qualified staff of truck accident attorneys can provide in-depth information to truck accident victims, including immediate steps to take after a truck accident. We understand how a truck driver's negligence can lead to accidents that cause serious injuries and wrongful deaths and where to find the evidence to support our clients' claims. To learn more about bringing a truck accident lawsuit, call Friedman Rodman Frank & Estrada, P.A. at 877-448-8585. You can also reach us through our online contact form. Attorneys are available to speak with you 24 hours a day, 7 days a week in English, Spanish or Creole. Sé Habla Español / Nou Parlé Creole.