Truck Company Errors
South Florida Truck Accident Lawyers Help Victims Recover Full Compensation for Their Injuries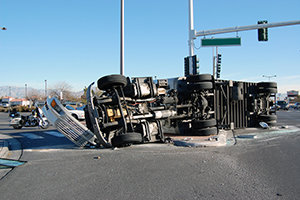 Semi-trucks and other commercial vehicles are not only some of the largest on the road, they are also some of the most dangerous. For example, according to the Insurance Institute for Highway Safety, more than 4,100 people died in fatal truck accidents in 2019 alone, and tens of thousands more were injured. While truck drivers often bear responsibility for these accidents, the companies that employ them may also be held financially liable in the event of an accident. At Friedman Rodman Frank & Estrada, our dedicated team of personal injury lawyers has over 45 years of experience holding trucking companies responsible for their negligence.
When Is a Trucking Company Liable for an Accident?
When it comes to trucking company liability, there are two types. Generally speaking, a truck driver's employer is responsible for the negligent acts of a truck driver, provided the accident occurs while the truck driver is acting within the scope of their employment. For example, if a Florida truck accident occurs on the highway while a truck driver is transporting cargo, both the trucking company and the truck driver may be liable. This is referred to as vicarious liability, or secondary liability, because the trucking company is held responsible for the actions of its agent, the truck driver. This type of liability does not require an accident victim to prove that the company was negligent.
On the other hand, trucking companies can also be financially responsible for an accident based on their primary liability. Holding a trucking company primarily liable involves proving that the company was somehow negligent and the company's negligence caused the accident. Some of the most common examples of primary trucking company liability include the following:
Failure to Train Drivers
Like any other employer, trucking companies have a duty to train their employees so that employees can do their job safely. If a trucking company fails to provide the appropriate training or instruction to a truck driver, the company may be liable.
Dangerously Loading a Truck
Truck drivers rarely load their own trucks. Instead, the trucking company handles the loading. If a trucking company doesn't properly distribute the weight across the truck, or overloads the truck, it can cause the driver to lose control of the rig, potentially causing an accident.
Encouraging Drowsy Driving
Trucking companies regularly pay drivers based on the number of miles they travel, despite the high rate of drowsy driving among truckers. However, if a trucking company encourages drivers to violate federal rest requirements or falsify rest logs, the trucking company may be primarily liable for an accident.
Negligent Hiring
Not everyone is cut out to become a truck driver. Those with a long history of traffic tickets, accidents, or DUI arrests should be weeded out by a trucking company. When a company fails to investigate those they hire to operate these dangerous vehicles, they can be liable for any resulting injuries.
Negligent Maintenance
While some truck drivers own their own rigs, many are owned by the trucking company. In these situations, the company has a duty to ensure that all the truck's systems are in safe working order. In the event of a defective part, the manufacturer of the part may also be liable.
Have You Been Injured in a South Florida Trucking Accident?
If you or a loved one recently suffered serious injuries in a Florida truck accident, the trucking company may be liable for your injuries. At the South Florida personal injury law firm of Friedman Rodman Frank & Estrada, our legal team regularly investigates trucking company liability in the wake of serious and fatal truck accidents. We also handle personal injury cases against truck drivers, bus drivers, and other operators of large vehicles. To learn more about the services we provide, and to schedule a free consultation, give Friedman Rodman Frank & Estrada a call today at 877-448-8585. We serve clients all over South Florida, including but not limited to Miami, Miami Beach, Naples, Homestead, Fort Lauderdale and Orlando.