Fort Lauderdale ATV Accidents
Four-Wheeler Injury Attorney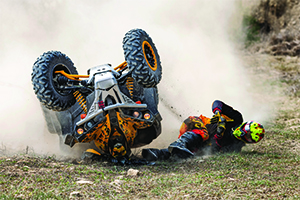 All-terrain vehicles (ATVs) are three or four-wheeled motorized vehicles used in recreational and work-related outdoor activities. Many ATVs can go as fast as 55 MPH and can weigh as much as a quarter of a ton. While these vehicles undoubtedly serve a valid purpose, they can also be extremely dangerous. In fact, over the past two decades, there have been more than 6,000 ATV fatalities and countless ATV injuries.
At the law firm of Friedman Rodman Frank & Estrada, our Fort Lauderdale ATV accident lawyers have more than 100 years of combined experience helping accident victims recover compensation for their injuries. Whether an accident was caused by a defective ATV or an irresponsible user, we can advise you of your rights and effectively pursue a claim for compensation on your behalf.
What Are the Causes of ATV Accidents?
Some ATV accidents are caused by manufacturing defects in the ATV itself. These product liability claims fall into three categories:
Design Defects
Design defects involve a problem in how the ATV was designed. Often, a design defect can be detected "on paper" without even inspecting the vehicle. However, ATV manufacturers may fail to notice a potential design defect when rushing to release a new vehicle. Often, design defects affect many (or all) of the vehicles in a particular line.
Manufacturing Defects
Manufacturing defects are flaws in the manufacturing process. ATVs that suffer from a design defect often have nothing wrong with the vehicle's design, but a problem that arose during the manufacturing process rendered the vehicle unreasonably dangerous. Manufacturing defects are more likely to affect a small number of ATVs rather than an entire product line.
Failure to Warn
Failure to warn describes a situation in which a manufacturer knows or should have known of a particular hazard but failed to warn consumers about it. In this way, failure to warn product liability claims often involve ATVs that are properly designed and manufactured; however, consumers are put at an increased risk of danger due to a lack of sufficient warnings about how to safely use the vehicle.
Of course, many ATV accidents also involve irresponsible and inexperienced operators who make a tragic mistake. In these cases, the driver of the ATV may be liable for any damages suffered by victims. Some of the ways that a negligent driver might cause an ATV accident include the following:
Driving while impaired,
Driving too fast,
Taking blind corners,
Overloading the ATV, or
Hill-climbing.
Regardless of the cause of an accident, victims may be entitled to compensation. However, determining whether an accident was the result of user error or a product defect can be challenging. Therefore, victims are advised to consult with an experienced Fort Lauderdale ATV accident attorney.
Which Brands of ATV May Be Defective?
Over the years, all major ATV manufacturers have had safety issues with their vehicles. Thus, regardless of the make or model of the ATV that was involved in your accident, it could have been due to a defect. Some of the most common brands of ATVs include:
Polaris,
Kawasaki,
Suzuki,
Honda,
KTM,
Yamaha, and
Textron.
Have You Been Hurt in an ATV Accident?
If you have been seriously injured in an ATV rollover or other ATV accident, contact the law office of Friedman Rodman Frank & Estrada today for a free consultation. At Friedman Rodman Frank & Estrada, our Fort Lauderdale ATV accident attorneys are ready to discuss your case and advise you on your legal options to hold the party responsible for your injuries accountable. We take all cases on a contingency basis, meaning you are not responsible for paying any legal fees unless and until we can recover compensation on your behalf. When you need a Fort Lauderdale personal injury lawyer who will aggressively pursue the maximum compensation to which you are entitled, call Friedman Rodman Frank & Estrada at 877-448-8585. You can also connect with us through our online contact form.
Attorneys are available to speak with you 24 hours a day, seven days a week in English, Spanish or Creole.
Sé Habla Español / Nou Parlé Creole.