Defective Tires Create Danger for Florida Drivers
Defective Tires Create Serious Dangers for Florida Drivers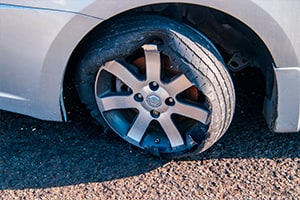 Imagine driving along a Florida highway when all of a sudden you hear a loud "pop" as you lose control of the vehicle. Your instincts kick in, and you try to safely navigate your vehicle to the shoulder, but you are unable as your car enters an uncontrollable spin. If you are lucky, there are no other cars on the road, and your vehicle eventually comes safely to a complete stop. Unfortunately, many motorists who experienced a blowout as a result of defective tires are not so fortunate.
At the Miami car accident law firm of Friedman Rodman Frank & Estrada, P.A., we regularly represent accident victims and their loved ones in defective tire claims. We can help you understand your rights and effectively pursue the financial compensation you deserve after everything you've been through.
Florida Car Accidents Caused by Defective Tires Start With the Manufacturer
Tire manufacturers make tires by assembling rubber, fabric cord and steel wire in a mold and applying heat and pressure to the point where the rubber is almost liquid. The rubber vulcanizes, and the final tire shape forms. If even the smallest error occurs during the manufacturing process, a variety of tire defects can occur.
A low-level malfunction happens when the tire's tread cures into a slightly conical shape rather than the cylindrical shape it is supposed to be. This causes the vehicle to pull to one side. Other symptoms of a defective tire include tread separation or blowouts.
Miami Motor Vehicle Accidents Resulting from Defective Tires
National Highway Traffic Safety Administration (NHTSA) statistics show that about 414 deaths and 10,275 injuries occur annually due to tire problems. Rollover accidents are the most common type of serious accident following a tire blowout.
When a tire explodes, blows out or loses its tread at highway speeds, the driver often loses control of the vehicle. It is especially difficult for a driver to maintain control of the vehicle if the tire that fails is on the rear of the vehicle, as the steering wheel and brakes are not as effective at helping the driver maintain control as when the front tire fails. Out-of-control vehicles traveling at highway speed often end up rolling over. The more top-heavy a vehicle is, the more likely it is to roll.
Why Are Tire Defects So Dangerous?
Almost 10,000 people die each year in rollover accidents, according to the National Highway Transportation Safety Administration. The reason why rollover accidents are so devastating is that tire blow-outs frequently cause the vehicle to overturn. And because the roof and support structure of many vehicles are weaker than the rest of the vehicle, passengers can sustain serious injuries such as spinal cord damage, traumatic brain injury, paraplegia and quadriplegia. Sadly, many rollover accidents result in accident victims and their families paying the ultimate price.
Tire failure can be frightening and have catastrophic consequences. Tire manufacturers have a duty to sell safe products and need to be held responsible when their products fail. Motorists also have a duty to maintain their vehicle's tires in a safe condition and to replace them when they become worn.
Have You Been Injured in an Accident Caused by a Defective Tire?
If you have been involved in a car accident due to tire failure, a Miami product liability at the law firm of Friedman Rodman Frank & Estrada is here to help. We can discuss your situation with you and advise you on all of your options, helping you determine the best course of action for your family. We have more than 45 years of experience holding manufacturers liable for the harms caused by their products and look forward to helping your family pursue justice for what you've been through. To learn more, and to schedule a free consultation with one of our South Florida personal injury lawyers, call (877) 448-8585 today. You can also reach us through our online contact form. We proudly represent clients throughout South Florida, including but not limited to Miami, Miami Beach, Naples, Homestead, Fort Lauderdale and Orlando.