Tire Defects
Miami Tire Defects Lawyers
Tires are made up of several components including the bead, belt and tread. All of these components are intended to work together harmoniously to provide adequate traction and allow drivers to reach their destinations safely. Unfortunately, many tires are tainted by design or manufacturing imperfections which can hinder their ability to perform without posing a risk to motor vehicle safety. These imperfections are known as tire defects.
The National Highway Transportation and Safety Administration (NHTSA) reports that nearly 42,000 lives are lost annually on our highways. Many of these deaths are directly attributable to tire-related defects such as cracking, uneven tread wear and tread separation.
One of the most common types of tire defects is tread separation. Steel-belted radial tires are made with steel and rubber; therefore, in order to create a strong, functional tire, the steel and rubber must be appropriately bonded together. When improperly bonded, the tread may separate from the belt, often causing a tire blowout. Tire blowouts are extremely dangerous because, in extreme circumstances, they may cause vehicles to roll over or may cause drivers to lose control of the vehicle, especially when traveling at high speeds.
Another common tire defects is ozone cracking. Cracking occurs when O3 gas, found abundantly in urban areas, begins to attack the tire rubber's polymer chains. With prolonged exposure to the O3 gas, the polymers begin to break down causing visible cracks in the rubber and compromising the tire's integrity.
Tire manufacturers usually offset ozone cracking by adding chemical substances called anti-ozonants to the rubber. These anti-ozonants intercept the O3 gasses at the surface of the tire before they have a chance to damage the polymers.
In recent years, NHTSA has imposed heightened safety standards on tire manufacturers, but some have managed to slip through the cracks. Since 1966, approximately 46 million tires have been recalled to correct safety defects. Please click here to search the NHTSA Recalls Database.
Though many of the recalls have been voluntarily initiated by the tire manufacturers themselves, some have been ordered either by NHTSA or by the courts as a result of complaints filed by consumers like you. Please click here to file a complaint with NHTSA.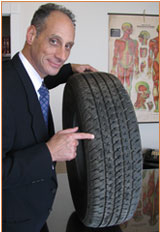 Contact Us for a Free Consultation
Friedman Rodman Frank & Estrada, P.A. is a products liability/tort litigation law firm that has particular experience handling personal injury cases involving automotive and tire defects. Friedman Rodman Frank & Estrada, P.A. handle cases all over the country. If you know someone who has suffered from these injuries, contact our Miami product liability attorneys today at 1-877-448-8585 for a free and confidential consultation or fill out our online form.