Collisions Involving Cyclists in Miami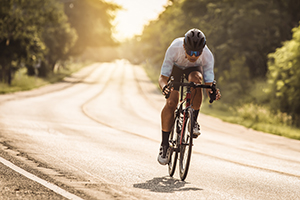 Collisions involving cyclists in Miami are unnervingly common, as often both cyclist and motorist are forced to share the path in what may be an uncomfortable and dangerous lane. Whether you or a loved one was cycling or driving the motor vehicle, our expert attorneys can help.
We have been helping individuals bring their personal injury claims for decades throughout our 100 cumulative years of experience. We understand Florida law and how it applies to the particular scenario in which a cyclist and motorist collide. No matter your role in this collision, we are ready to help you obtain the compensation you deserve.
Florida Law
Under Florida law, the cyclist is given the same rights as the motorist, including the right of way, which means that the cyclist has as much right to ride in the lane as a motorist does. Often, this becomes a problem in single-lane traffic where there is no bike lane nor is there a sidewalk for the bike to ride in, thus resulting in dangerous maneuvering around the cyclist as the motorist attempts to speed past. This can cause the following accidents to occur:
Vehicle bumps into or hits cyclist, potentially causing injury
Vehicle runs over cyclist, injuring or resulting in death
Vehicle runs over cycle, damaging it
Cycle scratches vehicle or causes other damage
Who is at Fault in Collisions Involving Cyclists in Miami?
Every scenario is different, which is why our firm takes the initiative to assess the scene of the collision and collect evidence that can be used to advance your claim. A private investigator is hired if needed. Witness accounts, police investigation reports, the cycle or vehicle itself, and photography of the scene will be taken into consideration as we help pursue your claim to an ultimately favorable resolution. A look into the other party's driving record will indicate if they have committed driving infractions in the past and will signal if there had been any notice of negligence leading to your collision.
We will explore and pursue every avenue to collect money damages for you. This will ensure that the culpable parties take responsibility under the law and make you as whole as possible. If you have been injured, there might be doctor bills, hospital bills, surgery costs, rehabilitation costs, and damages to your property, which should be paid for by the responsible party. As well, we will seek monies for your pain and suffering due to your injury. If your loved one has passed due to the accident, we will pursue the survivors' claims to the full extent of the law, guiding you throughout this difficult process, as we have done with many clients before you with great success. Fees are not collected until the case is successfully resolved.
Contact Us
Reach out to Friedman, Rodman & Frank immediately if you have been in a collision involving a cyclist in Miami. Our firm has been in practice for many years, serving the members of this community and ensuring their rights are vigorously protected. We urge you to contact us as soon as possible, as time can be key to resolving claims like yours effectively. Call us at 305-448-8585 to set up your free, confidential consultation and to discuss the details pertaining to your case. We are eager to help and can communicate fluently with clients who speak English, Spanish, and Creole.