Collisions Involving Cyclists in Miami
Highly Skilled Miami Personal Injury Attorneys Representing Bicyclists Injured in All Types of Accidents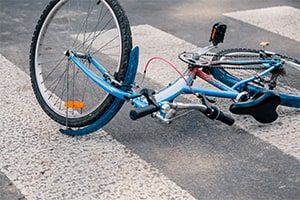 Collisions involving cyclists in Miami are frighteningly common, as both cyclists and motorists are often forced to share roads which are often small, crowded and dangerous. Whether you or a loved one was cycling or driving the motor vehicle, our attorneys can help.
At Friedman Rodman Frank & Estrada, P.A., we have more than 100 years of combined experience handling collisions involving cyclists in Miami. We understand Florida law and how it applies to these complex—and often highly contested—claims. Regardless of how the accident occurred or the severity of your injuries, we are available to meet with you and go over your options.
Florida Bicycle Laws
Under Florida law, a cyclist is given the same rights as the motorist. For example, this includes having the right of way whenever the driver of a car would have it, which means that the cyclist has just as much right to ride in a lane as a motorist does. Often, this becomes a problem on single-lane roads, where there is no bike lane or a sidewalk. This can result in drivers attempting to pass bicyclists when it isn't safe to do so.
Types of Miami Bicycle Accidents
Anytime a bicyclist must share the road with cars and trucks, the potential for an accident is there. However, certain types of accidents are much more common than others. Some of the most common types of collisions involving cyclists in Miami include the following:
Distracted driving accidents where the driver doesn't notice a nearby rider;
Drunk driving accidents in which the driver veers out of their lane and hits a bicyclist; and
Aggressive driving accidents, such as when a driver attempts to pass another vehicle by using the bike lane.
Of course, these are just a few of the types of Miami bike accidents; there are many others. Regardless of the type of accident that resulted in your injuries, Friedman Rodman Frank & Estrada, P.A. can advise you of your options and help you determine the best course of action.
Who Is at Fault in Collisions Involving Cyclists in Miami?
Every bike accident in Miami is different. In some cases, bicyclists are at fault; however, more often, an accident is the result of a negligent driver. This is why our firm takes the initiative to assess the scene of the collision and collect any and all evidence that can be used to advance your claim. If we believe that a private investigator is needed, we have the resources to bring one on board the team. We also review all witness accounts, police investigation reports, photographs and surveillance video, and any other evidence that can help us put together a compelling claim. Often, a look into the other motorist's driving record will indicate if they have a history of driving infractions and may help us prove a pattern of dangerous driving.
We will also explore and pursue every avenue to collect financial damages on your behalf. We want to make you as whole as possible for everything you've been through. If you have been injured, you almost certainly have doctor bills, hospital bills, rehabilitation costs, and other medical expenses, which should be paid for by the responsible party. We will also seek compensation for your pain and suffering and other non-economic damages.
If your loved one died in a Miami bike accident, we will pursue your claim to the fullest extent possible, guiding you and your family throughout this difficult process with compassion as we aggressively pursue justice on behalf of your loved one.
Were You Injured in a Miami Bicycle Accident?
If you or a loved one was involved in a Miami bicycle accident, reach out to Friedman Rodman Frank & Estrada, P.A. Our firm has more than 45 years of experience serving the members of our community, ensuring their rights are protected. We urge you to contact us as soon as possible as you only have a limited time to file a claim against the responsible party. Call us at (305) 448-8585 to set up your free, confidential consultation and to discuss the details pertaining to your case. We are eager to help and can communicate fluently with clients who speak English, Spanish, and Creole. We proudly represent clients all over South Florida, including but not limited to Miami, Miami Beach, Naples, Homestead, Fort Lauderdale and Orlando.