Car-Cyclist Collision in Miami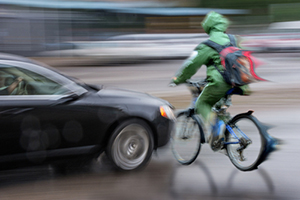 Cycling enthusiasts understand how important it is to follow proper riding procedures, especially in areas that don't have designated cycling lanes. Unfortunately, if you've been involved in a car-cyclist collision in Miami, you have a first-hand account as to how the increasing death toll and injuries of bike riders in our city has impacted the community of cyclists. In fact, Florida is the state with the highest death rate in the country, coming in at nearly one death per 200,000 people, more than double that of the national average, according to the Centers for Disease Control and Prevention.
Because our attorneys have worked with the residents of Miami for decades, we have accumulated the necessary experience and skill to tackle car-cyclist accident claims and can assist you with your claim. You and your family or loved ones deserve compensation for what you or they have been put through; call us today to discuss your claim for compensation due to injuries suffered.
Causes of a Car-Cyclist Collision in Miami
There are a multitude of possible scenarios where collisions happen on the roads and freeways that Miami cyclists use each day. These are but a few examples of how a collision can manifest itself:
Car or cyclist running a red light
Car encroaching on cyclist's space
No use of turning signals
Bumping into or reversing onto cyclist
Driving while intoxicated
Encroaching on right of way
Opening door onto the path of cyclist
Texting while driving
A cycling collision is a jarring experience, to say the least. The injured person may find themselves under a car, through a windshield, run over, or thrown a distance away due to the impact. Any and all of these collisions can lead to severe damage, resulting in potential loss of limbs or life. If a victim survives, they might incur hefty rehabilitation expenses and costs of medical care, including surgery, for which the responsible person or company should pay, along with compensation for their past and future pain and suffering. For a deceased victim, their family should be compensated for funeral home costs, loss of earnings, and their difficult loss of the family member. There are many directions in which a case can proceed and the party at fault, along with their insurance carrier, will fight to ensure you receive as little compensation as possible. With Friedman Rodman Frank & Estrada, P.A. on your side, you'll be equipping yourself with an experienced team of attorneys ready and willing, and with the resources, to fight even harder than the insurance company to get you what you deserve.
What We Will Do
Our firm will take care of your case as if it were our own, guiding you through every step of the process to ensure that we secure appropriate compensation for your loss. We will help you build a case through the following services:
Review evidence
Confirm witness reports and police reports
Examine the scene of the collision, recreating if need be
Document and photograph any damages to your person or belongings
Investigate the driving records of the other persons involved
Consult experts to analyze the scene and/or your injuries
Establish the claim requirements
Regardless of how your accident occurred, know that we are on your side and are willing to fight aggressively to defend your right to recover compensation for your past, present, and future losses. We fully understand what you may be feeling at this moment considering we've handled many similar car-cyclist collision cases in Miami with our 100 years of experience on our side. Call us at 305-448-8585, or contact us online, any time of day to set up your free consultation. There are no attorney's fees paid until the successful conclusion of your case, either by settlement or verdict.