Fort Lauderdale Worker's Compensation
Experienced Fort Lauderdale Workplace Injury Lawyer Ensuring Injured Workers are Provided with the Benefits They Deserve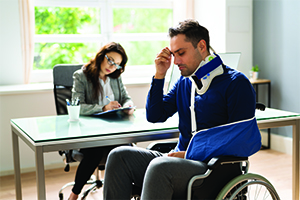 In Florida, approximately 100,000 workers are injured on the job every year. Employees who experience a workplace injury often find it difficult to obtain the time off they need to recover while ensuring that they bring in enough income to cover their normal expenses. However, the Florida Workers Compensation Program provides benefits to workers suffering from injuries related to workplace accidents and job-related illnesses. This includes occupational illness or diseases that develop over a period of time as a result of exposure to hazardous substances, environmental conditions, or repetitive body motion. At Friedman Rodman Frank & Estrada, our Fort Lauderdale workers' compensation lawyers have more than 45 years of experience helping injured workers recover the compensation and medical benefits they need to get their lives back on track after an accident.
What Is Workers' Compensation?
Workers' compensation benefits are available in every state to employees who have been hurt within the scope of their employment. Florida worker's compensation laws provide that any employer with more than four employees must carry insurance for employees' work-related injuries. Employers are further required to pay the entire cost of the insurance premium, thereby taking the financial burden off employees. If an employee is injured on the job, the worker's compensation insurance provides medical benefits and income-replacement benefits to the worker for a certain period of time—usually until they've recovered and can return to work.
The Florida workers' compensation program is a "no-fault" system. This means that injured employees can receive benefits without needing to prove that the accident leading to their injuries was someone else's fault.
Workers' compensation benefits available to you may include:
Lump-sum tax-free settlements,
Medical expenses,
Payment for lost wages,
Physical rehabilitation and training, and
Death benefits for a spouse and surviving dependents.
You should consult a Fort Lauderdale workers' compensation attorney if you have any questions concerning workers' compensation, especially if you have been injured and your employer refuses to pay benefits. An attorney can explain the Florida workers' compensation rules related to your injury, protect your rights and ensure you receive all benefits to which you are entitled.
What Benefits Are Available Through a Workers' Compensation Claim in Broward County?
The benefits available through a workers' compensation claim depend on the type of injury, the amount of time it takes you to recover, and whether you suffered any long-term injuries preventing you from returning to your previous job. The Florida workers' compensation system provides four different types of income-replacement benefits:
Temporary Partial Disability (TPD) benefits;
Temporary Total Disability (TTD) benefits;
Impairment benefits (also referred to as Permanent Partial Disability (PPD) benefits); and
Permanent Total Disability (PTD) benefits.
At the law firm of Friedman Rodman Frank & Estrada, our clients routinely call on us to prepare and litigate their workers' compensation cases. For more than four decades, our lawyers have successfully handled Florida workers' compensation claims involving accidental injuries, work-related deaths, occupational diseases and repetitive motion injuries.
Discuss Your Injuries with a Fort Lauderdale Workers' Compensation Lawyer Today
If you or a loved one was recently injured in a workplace accident, you may be entitled to workers' compensation benefits. Obtaining these benefits will ensure that you receive the medical care you need to get back to work and get your life back on track. To learn more about bringing a workers' compensation claim in Broward County, call Friedman Rodman Frank & Estrada at 877-448-8585. You can also connect with us through our online contact form. We will be glad to evaluate your case at no cost to you. All of our attorneys and support staff speak Spanish, and we can also communicate with you in Creole and English. An attorney is available 24 hours a day, seven days a week to take your call. Sé Habla Español / Nou Parlé Creole.