Fort Lauderdale Diving and Pool Accidents
Compassionate Broward County Personal Injury Lawyers Pursuing Justice on Behalf of Families Throughout South Florida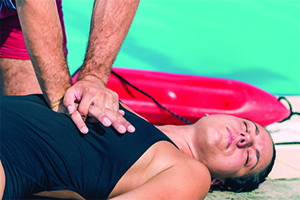 Swimming pools are a common fixture in South Florida, where the average year-round temperature is in the high 70s, and it rarely falls below 60 degrees. However, while swimming pools can provide a much-needed reprieve on a hot summer's day, they also raise some very real safety concerns. Indeed, pool owners take on a tremendous responsibility when they allow others to use their pools. Businesses that operate swimming pools in South Florida also have an obligation to ensure that the pool not only complies with all local laws but also that any lifeguards on duty are properly trained and equipped.
At the law firm of Friedman Rodman Frank & Estrada, our personal injury lawyers have a long history of representing drowning victims and grieving families in cases arising from Fort Lauderdale diving and pool accidents. Over this time, we've not only become well-versed in the laws that govern these claims but also in effectively negotiating with homeowners' and business owners' insurance companies to ensure our clients are fairly compensated for everything they've been through.
Common Causes Of Pool Accidents
Serious injuries and deaths related to swimming pool accidents occur every year. In fact, Florida experiences the fifth most drowning deaths of any state in the nation and the most fatal child drownings, tied with Texas.
While there are many ways that a child or adult can be seriously injured or killed in a swimming pool, some of the most common causes of non-fatal and fatal swimming pool accidents include:
Drowning
Too often, property owners do not properly surround their pool with a fence or gate. Swimming pools in Florida are required to be fully enclosed by a barrier that is at least four feet tall or be armed with an alarm. When pools are not properly protected, small children can wander, fall in, and drown.
Diving
Severe injuries, such as brain and spinal cord damage, can result from diving in water that is too shallow. And sadly, many of these injuries are fatal due to the swimmer not being pulled out of the water in time. Many pool owners do not build their pools to the proper depth – at least 9 feet – to prevent these types of injuries. If a property owner has a pool that is too shallow, they have a legal duty to warn swimmers against diving in the shallow water.
Pool Toys
Not all floating toys are safe. Some pool owners take the approach that "because the toy floats, it must be safe for the pool"; however, that is not the case. The design of some toys results in users becoming tangled or pinned underwater. When this happens, serious injuries or death can occur.
Pool Owners Must Protect Swimmers of All Ages
By law, Florida pool owners are responsible for ensuring the safety of the people who use their pools. Here are some basic pool-owner responsibilities:
Keep Safety Equipment Near the Pool
Public pools are required to keep a shepherd's hook handy to rescue users struggling to swim.
Warn Guests
Public and private pool owners must post warnings of potential dangers, such as areas of shallow water, near their pools.
Protect Visitors from Any Known Risks
All property owners are responsible for keeping their property safe, which includes warning visitors of any potential dangers. Swimming pools pose a serious risk of harm. Accordingly, swimming pool owners must take measures to protect users from any known harm related to the pool.
Contact One of Our Experienced Fort Lauderdale Diving and Pool Accident Lawyers
If you, or a loved one, have been injured in a diving or pool accident, our experienced legal team is prepared to help. For over 45 years, the law offices of Friedman Rodman Frank & Estrada have helped diving and pool accident victims, as well as their surviving family members, collect the compensation they are entitled to. To schedule a free consultation with one of our experienced personal injury lawyers, call our Ft. Lauderdale offices toll-free at 877-448-8585. You can also connect with us through our secure online contact form. Consultations are available in English, Spanish, and Creole.