Florida Wrongful Death
Dedicated Personal Injury Lawyers Helping Families Pursue Justice After a Tragic Loss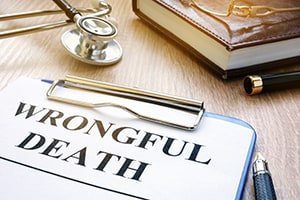 Nothing is more tragic and devastating than losing a loved one. Yet, when a family member is killed as a result of the negligence or wrongdoing of others, it is especially painful. While nothing can bring back a loved one who was taken too soon, grieving families can pursue a wrongful death claim to recover financial compensation for their losses. At the Florida wrongful death law firm of Friedman Rodman Frank & Estrada, our compassionate lawyers have decades of experience helping families obtain justice in the wake of fatal—and preventable—accidents.
What Is a Wrongful Death Lawsuit?
A wrongful death lawsuit is a type of personal injury case based on Florida's Statute 768.21, which allows certain family members of a person who was injured and died as a result of a wrongful act to recover damages for lost financial and emotional support.
Who Can Be Held Liable Through a Florida Wrongful Death Claim?
Individuals, corporations, businesses and governmental agencies all can legally be at fault for acting negligently or intentionally, causing someone's death. Wrongful death claims involve all types of fatal accidents such as car accidents, medical malpractice, theme park accidents, nursing home abuse, work injuries, intentional assaults, and more. However, proving a wrongful death case can be labor intensive. It's important that you provide all the facts and circumstances involving your case, have the names of any witnesses or anyone else closely related to the case and can describe or provide any evidence that is connected to the case.
What Damages Are Available in a Wrongful Death Case?
Damages awards vary significantly between wrongful death cases because each case is unique. However, as a general rule, damages in a wrongful death case may include lost wages, loss of future income, mental pain and suffering, loss of companionship and any other financial losses suffered as a result of the death.
Who Can Sue for Wrongful Death in Florida?
Florida's wrongful death statute defines who qualifies as a survivor able to bring a claim. Survivors include victims'
Spouse,
Children (including those who were adopted),
Parents,
Blood relatives who were at least partially dependent on the victim for support and services.
Individuals who are eligible to obtain compensation through a Florida wrongful death case are called potential beneficiaries or survivors. As stated earlier, survivors are entitled to recover the value of lost support and services from the date of the decedent's injury to their death, with interest, and the future loss of support and services from the date of death. They can also seek compensation for lost companionship, funeral and other miscellaneous expenses.
How to Initiate the Wrongful Death Process in Florida
If you have a valid wrongful death claim in the state of Florida, a probate estate will need to be opened and a personal representative appointed who will bring the case on behalf of the victim's estate and individual survivors. This personal representative is usually a spouse, parent, or another appropriate person.
At Friedman Rodman Frank & Estrada, our wrongful death attorneys can assist you in opening the estate and appointing a personal representative. We are immediately available to review your situation, answer your questions, and conduct a thorough investigation to best advise you of your family's options.
Speak With an Experienced Florida Wrongful Death Lawyer to Learn More
Losing a loved one is an extremely sensitive matter, which is why the lawyers at Friedman Rodman Frank & Estrada are committed to helping families and friends who have lost family members due to the carelessness or deliberate wrongdoing of others. Our attorneys treat each case individually, with the utmost compassion, respect and understanding. At Friedman Rodman Frank & Estrada, we help families in Miami and across South Florida navigate the legal process while protecting their rights. Our attorneys have the extensive knowledge, experience, and skill you need to examine your legal options and seek fair compensation for your financial and emotional loss. To learn more contact us online or at our Miami law offices by calling (877) 448-8585. You can also connect with us through our secure online contact form.