Resort and Beachfront Accidents
Personal Injury Attorneys Serving Clients Across South Florida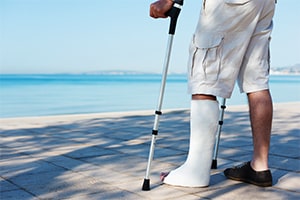 Florida is known for having miles of beautiful beaches as well as many first-class resorts lining the shores. Most beach vacations provide couples and families with fond memories that will last a lifetime. However, each year, thousands of guests suffer serious injuries related to resort and beachfront accidents. If you or a loved one was hurt while visiting a Florida resort, you may be entitled to financial compensation. At Friedman Rodman Frank & Estrada, our knowledgeable Florida premises liability attorneys can help you understand your rights and how to effectively pursue a claim against a negligent resort owner.
Types of Resort and Beachfront Accidents
Florida law requires that property owners take the necessary precautions to ensure that their guests remain safe. While resorts cannot guarantee guests' safety, they must take reasonable measures to provide a safe space. However, especially during certain parts of the year, Florida resorts are incredibly busy. It is not uncommon for a resort to underestimate the volume of guests, leading to a situation where the resort is understaffed. This may mean fewer sanitation workers, lifeguards or other employees responsible for ensuring the safety of guests.
When it comes to Florida resort accidents, most involve either a guest's fall while navigating the resort or while at the pool or on the beach.
Falls at Florida Beachfront Resorts
Falls are a leading cause of injury across the United States for all age groups. In several ways, those visiting a resort face an increased risk of a slip and fall accident. For example, most guests are unfamiliar with the resort and may not notice a hazard, such as a loose paving stone. Resorts also see a high volume of traffic, requiring constant vigilance on the resort's part to maintain the property in a safe condition.
Florida hotels that have pools present additional risks of drowning. State law imposes strict requirements on swimming pools, waterslides, and other water attractions, and resort owners may be liable for any injuries stemming from their failure to comply with these laws. Resorts may also be liable for injuries caused by a lifeguard's negligence.
Under Florida premises liability law, resort visitors are considered "business invitees" and are owed the highest duty of care. For example, a hotel must regularly inspect the premises for any hazards and either take the necessary step to fix the hazard or adequately warn guests of the hazard's existence. However, in an attempt to avoid liability, resorts and hotels often argue that they were unaware of the hazard despite exercising due diligence.
Resort Liability for Beach Injuries
One of the main allures for many Florida resorts is the beach. Florida has over 1,350 miles of coastline and, while not all of it is developed, large areas are. However, visiting the beach can, in some cases, be dangerous. Of course, the most obvious danger associated with visiting the beach is drowning. Most Florida resorts are located on public beaches, meaning the local government—not the resort—is responsible for providing a lifeguard. However, Florida does allow for private beach ownership, and some resorts provide lifeguards. Determining who is liable for a beachfront resort drowning accident is complex and requires a detailed review of all the relevant facts.
Beach injuries also often occur from participation in watersports. For example, companies that rent personal watercraft (jetskis and wave runners) or offer experiences such as boat tours or parasailing, owe a duty to their customers. For example, if a company rents or uses defective equipment, both the company providing the equipment and the manufacturer may be liable.
Reach Out to the Florida Resort and Beachfront Accident Lawyers at Friedman Rodman Frank & Estrada
If you or a loved one recently suffered serious injuries while visiting a Florida resort, the dedicated personal injury lawyers at Friedman Rodman Frank & Estrada can help. Since 1976, our attorneys have been helping injury victims and their families obtain meaningful compensation that enables them to more easily move on with their lives after an accident. As a small law firm, we pride ourselves on being able to provide personal, custom-tailored representation to each of our clients. At the same time, we also have the resources to take on even the largest resort owners. To learn more, and to schedule a free consultation, give us a call at 877-448-8585 or 305-448-9818. We serve clients all over South Florida, including but not limited to Miami, Miami Beach, Naples, Homestead, Fort Lauderdale and Orlando.