Orlando Worker's Compensation
Dedicated Orlando Personal Injury Attorneys Help Injured Workers Obtain Much-Needed Benefits Following a Work Related Accident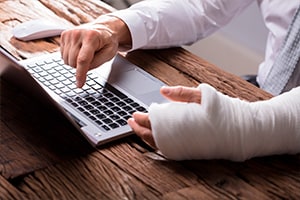 Have you been a victim of a worker's compensation accident in Orlando? With over 100 years of combined experience, the lawyers at Friedman Rodman Frank & Estrada have what it takes to connect you with the benefits you need, deserve and are entitled to. Don't make the mistake of embarking on this process on your own, as it can cost you tremendously.
Throughout the years, we have witnessed countless workers suffer pain and suffering from work-related injuries. Under state and federal law, your employer has a duty to provide a safe working environment, ensuring as few accidents as possible. However, unfortunately, some employers take these responsibilities more seriously than others.
What Injured Workers Need to Know About Florida Workers' Compensation Law
The Florida worker's compensation program is a no-fault, insurance-based system that provides a means for employees who are injured on the job to obtain compensation for their injuries. Because fault is not at issue in a workers' compensation claim, it doesn't matter who caused your injury; if your injury was work-related (occurring in the course and scope of employment), your employer needs to provide compensation and medical benefits under the law.
If you have been involved in a work-related accident, time is a key factor in filing an Orlando worker's compensation claim. In order to obtain disability benefits and compensation as well as medical treatment, you have to act quickly, as there are limitations on how long you have to file a claim. The first thing you'll have to do is notify your employer of your injury, which must generally be provided within 30 days. Of course, in many cases, your employer will have knowledge of your injury because a supervisor was there or heard about it from a witness to the accident. However, even if that is the case, you should provide written notice as soon as possible
What Are the Most Common Work Related Injuries?
There is a multitude of work-related injuries that you may experience while on the job. Some of the most common examples of work-related injuries that are compensable through an Orlando workers' compensation claim include:
Neck, back, shoulder, and knee injuries
Chemical burns
Heart attack or stroke
Repetitive stress injuries
Neurological injuries
Paralysis
Vision or hearing loss
Psychological injuries
These injuries can impede you from living your life and can cause you to experience physical, emotional, and financial damages. You deserve compensation for what you have been through. Employers are generally required to have worker's compensation insurance in Florida. We will aggressively seek the maximum amount of benefits you are entitled to from your employer's insurance company to ensure that you—and your family—are taken care of. In the event that your employer does not have insurance, we can still file a claim for benefits on your behalf.
What Types of Benefits Are Available for Injured Workers in Orlando?
There are several types of benefits you can receive from your employer's insurance company which are determined by the extent of your injuries. They include permanent total disability benefits, temporary total disability benefits, temporary partial disability benefits, impairment benefits, and medical care benefits. An Orlando workers' compensation attorney at Friedman Rodman Frank & Estrada can help you determine which benefits you may be eligible for.
Were You Injured in an Orlando Workplace Accident?
Worker's compensation accidents in Orlando are important to us, no matter the extent of the injuries you or your loved one have sustained. We believe that you should receive the compensation and benefits you deserve. However, it often takes professional assistance to get a workers' compensation claim approved. Our experience fighting on behalf of injured workers against employers and their insurance companies will give you the edge you need to ensure the best possible outcome. Contact us by phone at (877) 448-8585, 24 hours a day, seven days a week, to set up a free consultation and discuss the details of your claim. We serve clients all over South Florida, including but not limited to Miami, Miami Beach, Naples, Homestead, Fort Lauderdale and Orlando. Consultations are confidential and available in English, Spanish, or Creole. We don't get paid unless and until there is a successful resolution of your claim.