Naples / Fort Myers Wrongful Death
Experienced Personal Injury Lawyers Serving Families in Collier and Lee Counties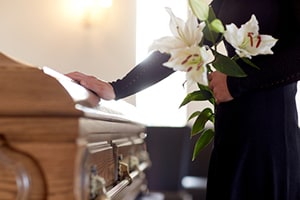 For most people, there are very few life events as tragic as the death of a loved one, regardless of the circumstances. The loss of a loved one comes with even greater anguish when it is caused by an irresponsible act of another and could have been prevented. Whether the wrongful death was the result of a construction accident, a motor vehicle accident, medical malpractice, a defective product or a workplace accident, an experienced lawyer can handle your case in a manner that is right for you and your family.
Our Naples personal injury attorneys will do everything possible to help you, standing by your side through all aspects of your case and simply being there for you when you need us. While the local prosecutor or state attorney may take action against the negligent party in the form of criminal charges, the victim's family may also have the right to file a wrongful death claim for financial compensation.
What Is a Wrongful Death Claim?
A wrongful death claim is a type of civil lawsuit that seeks damages for the death of a loved one. Wrongful death is defined as the loss of life caused by another's negligence or carelessness. Thus, to successfully bring such a claim, a grieving family must prove that another's negligent actions resulted in the death of their loved one.
Proving a Wrongful Death Claim in Naples / Fort Myers
A variety of issues must be addressed in a wrongful death claim. First, only certain parties are allowed to legally bring a civil action in these cases. In Florida, a wrongful death claim can typically be brought by the personal representative of the deceased person's estate on behalf of certain eligible survivors. The personal representative is the individual appointed by the court to administer the deceased person's estate. This person is usually named in the deceased person's will, if there is one, or appointed by the court if there is no will. The personal representative is responsible for bringing the wrongful death claim on behalf of the estate and the eligible survivors.
Eligible survivors are individuals who may be entitled to recover damages in a wrongful death claim. In Florida, eligible survivors include the deceased person's:
Spouse,
Children (both minor and adult),
Parents (if the deceased person was a minor) and
Blood relatives and adoptive brothers and sisters who were dependent on the deceased for support or services.
There may also be issues of who exactly to file the wrongful death suit against and, of course, the amount of compensation that can be sought for your loss. Our decades of experience handling these cases mean we have the know-how to take the right steps toward positive results for your benefit.
Our Florida lawyers at the law offices of Friedman Rodman Frank & Estrada will diligently pursue compensation for the full extent of damages you are entitled, which may include awards for the following:
Medical expenses,
Funeral expenses,
Loss of income of the deceased, and
Mental pain and suffering (past and future).
We recognize that your family is going through an incredibly difficult time and will cater our representation according to your unique needs.
Schedule a Free Consultation with a Compassionate Naples / Fort Myers Wrongful Death Attorney
If your family recently lost a loved one as a result of a tragic and preventable accident, you may be entitled to significant financial compensation for your loss. At the Naples / Fort Myers Wrongful Death law firm of Friedman Rodman Frank & Estrada, we have more than 45 years of experience helping to connect grieving families with meaningful compensation for what they've been through—and will continue to go through. Call us toll-free at (877) 448-8585 or contact us online to speak directly with a Naples wrongful death attorney in English, Spanish or Creole. Se habla español / Nou parlé Creole. We are available to assist you 24/7.