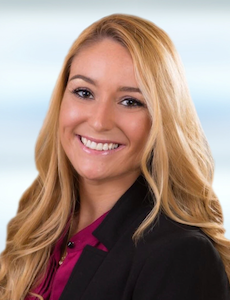 Lauren Geraghty, Esq.
Associate
Upon being admitted to the Florida Bar in 2016, Ms. Geraghty joined the law firm of Friedman Rodman Frank & Estrada, P.A. as an associate focusing on Plaintiff's Personal Injury matters.
Ms. Geraghty received a Bachelor of Arts, with a major in Political Science and minors in Sociology and Human and Social Development, from the University of Miami in December of 2012. She graduated summa cum laude and was a member of Phi Beta Kappa.
Ms. Geraghty continued onto the University of Miami School of Law, where she received her Juris Doctor, graduating cum laude, in 2016. While in law school, Ms. Geraghty received top grades in Legal Communications I, Legal Communications II, Property, and the Human Rights Clinic. She was awarded the C.A.L.I. Excellence for the Future Award for her success in Property, Legal Communications I and the Human Rights Clinic, as well as the Deans Certificate of Achievement for Legal Communications I and Legal Communications II. Ms. Geraghty was also recognized for her pro bono efforts, receiving the Pro Bono Challenge Distinction for completing over 75 hours of pro bono work. Ms. Geraghty served as a Dean's Fellow for her Property course through the Academic Achievement Program, as a staff editor for the Race and Social Justice Law Review, and as a Clinical Fellow in the Human Rights Clinic. As a clinical fellow, Ms. Geraghty focused on immigration advocacy projects and authored published works on deportations to Haiti since the 2011 earthquake.