Defective Drugs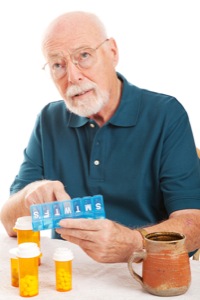 Even though doctors prescribe drugs tested and approved by the U.S. Food and Drug Administration (FDA), that does not necessarily mean they are safe. Every year, pharmaceutical products must be recalled because of the dangers they pose to consumers.
At Friedman Rodman Frank & Estrada, P.A., we aggressively hold pharmaceutical companies accountable for pushing products into the marketplace without properly testing the potential side effects of their pharmaceutical drugs. Proving fault can be highly complicated often hinging on highly technical and scientific medical evidence.
Our law firm knows how to overcome any challenges that can be faced n these types of cases. We have the skills and legal resources to determine the drug maker's errors and help you obtain a full financial recovery for the damages you have endured. Contact our Miami law firm today to meet with a skilled defective drug lawyer during a free initial consultation.
Determining Responsibility of Makers and Suppliers of Defective Drugs
Our firm's Miami drug recall attorneys have more than 100 years of combined experience proving fault in defective drug litigation. We know how to demonstrate when drug manufacturers overlook safety concerns in a rush to beat their competitors in the launch of a new pharmaceutical drug. We work with industry-leading experts, including former FDA employees, clinical researchers and epidemiologists to help us uncover sources of liability.
Our investigative skills are invaluable in helping us identify a direct link between defective drugs prescribed by doctors and serious side effects and oftentimes deaths. We are committed to holding pharmaceutical companies accountable for failing to properly test new drugs or warn consumers about the potential risk factors involved. We prepare all of our cases for a favorable result to prove fault against drug manufacturers for serious injuries or fatalities stemming from defective pharmaceutical drugs such as:
Actos
Accutane
Arava
Avandia
Baycol
Bextra
Benzene
Celebrex
Chantix
Levaquin
Lipitor
Meridia
Norplant
Prempro
Propofol
Reglan
Serzone
Vioxx
Yaz and Yasmin
Zyprexa
Our focus on preparing every claim as though it were goign to trial helps us secure large settlements for our clients. Insurance adjusters have learned that we are fully prepared and often times they take every measure possible to avoid going head-to-head against us in the courtroom.
Helping Victims of Defective Drugs Obtain a Full Financial Recovery
We are committed to helping you rebuild your life. Our firm's attorneys will take every measure possible to help you obtain the compensation you deserve. We are available to consult with your doctors so we can understand the extent of your medical conditions for which the medication was prescribed. Part of our focus includes working with vocational experts to learn if your injuries have threatened your ability to return to the workforce or even decreased your wage-earning capacity. We develop strong defective drug claims focused on securing maximum compensation for all the damages you have endured, such as:
Past and future lost wages and loss of earning capacity
Past and future medical expenses
Loss of enjoyment of life
Past and future pain and suffering
Contact Our Florida Defective Drug Recall Lawyers
Our door is always open for victims of defective drugs. We will fight hard to recover compensation for you. Contact our Florida law firm online or call 305-448-8585 or toll free at 877-448-8585 to schedule a free initial consultation with a highly skilled Miami defective drug attorney. We are available 24 hours a day, seven days a week. All consultations are free and confidential.