Miami Pedestrian Accidents
Injury Lawyers Serving Car Accident Victims Throughout Miami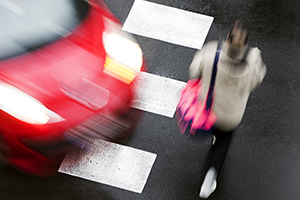 In many communities across South Florida, walking is a great way to get around. However, recently, Miami pedestrian accidents have been on the rise. In fact, Florida and the Miami area specifically have one of the highest rates of pedestrian accidents in the country. These accidents often result in severe, life-changing injuries. At Friedman Rodman Frank & Estrada, our respected Miami personal injury attorneys have extensive experience helping clients obtain full and fair compensation after suffering serious injuries in a preventable accident.
Common Injuries in Pedestrian Accidents
Car accidents involving a pedestrian are among the most likely to result in serious injury or death. This shouldn't come as a surprise, as pedestrians have nothing to protect them from an oncoming vehicle. After a pedestrian accident, you may suffer from any of the following injuries:
After a South Florida pedestrian accident, the cost of medical care can be tremendous. At Friedman Rodman Frank & Estrada, we don't think you should be responsible for these expenses, not to mention the other effects the accident will have on your life.
Recovering Damages in a Miami Pedestrian Accident Lawsuit
If you've been hit by a car while walking, you are entitled to bring a personal injury claim against the party or parties that were responsible for the accident. Similarly, if a loved one was tragically killed in an accident, you can bring a wrongful death lawsuit against the at-fault parties.
To bring a claim, you must show that the driver violated a duty of care they owed to you and that the driver's breach of this duty caused your injuries. If you are successful in bringing a claim, you can recover money damages for your economic and non-economic damages brought about by the accident. This includes amounts for your past and future medical expenses, lost wages, decrease in earning capacity, as well as the emotional and physical injuries caused by the accident.
What to Do After a Miami Pedestrian Accident
The moments after any car accident can only be described as a blur. However, at the same time, this is a critical time, and you should do everything possible to preserve your right to recover for your injuries. Below is a brief list of things to keep in mind after a pedestrian accident:
Report the Accident
When you call 911 or the local police department to report the accident, they will send a team of emergency responders to the scene to provide any life-saving or medically necessary treatment. Reporting an accident also documents the incident, which can be critical to proving your case.
Obtain Immediate Medical Care
Many serious injuries, including traumatic brain injuries, are not immediately apparent after an accident. Thus, even if you don't notice any injuries that seem serious, it is important that you get checked out by a doctor as soon as possible.
Gather Any Evidence
If you can, take a few moments to obtain evidence related to the accident. Depending on the situation, this may mean obtaining the names and contact information of any eyewitnesses or taking photographs of the accident scene.
Contact a Lawyer to Discuss the Accident
Once you are on the road to recovery, the next step is to reach out to a reputable South Florida pedestrian accident lawyer. A lawyer will provide you with an assessment of your case and help you determine the best course of action.
Have You Been Injured in a Miami Pedestrian Accident?
Pedestrian accidents are almost all preventable, and most of these collisions are caused by a driver's negligence. At the law firm of Friedman Rodman Frank & Estrada, our lawyers have represented clients injured in pedestrian accidents since 1976. We understand how to best situate your claim and do everything we can to ensure you are fairly compensated for your injuries. Whether we are investigating the accident, negotiating with an insurance company, or litigating your case in front of the jury, we have what it takes to successfully handle even the most complex and contested cases. To learn more about the services we provide and to schedule a free case evaluation, contact us at 877-448-8585. Our lawyers represent accident victims throughout South Florida, including but not limited to Miami, Miami Beach, Naples, Homestead, Fort Lauderdale and Orlando.